UK Prime Minister Cameron Warns Euro Zone To Make Up Or Break Up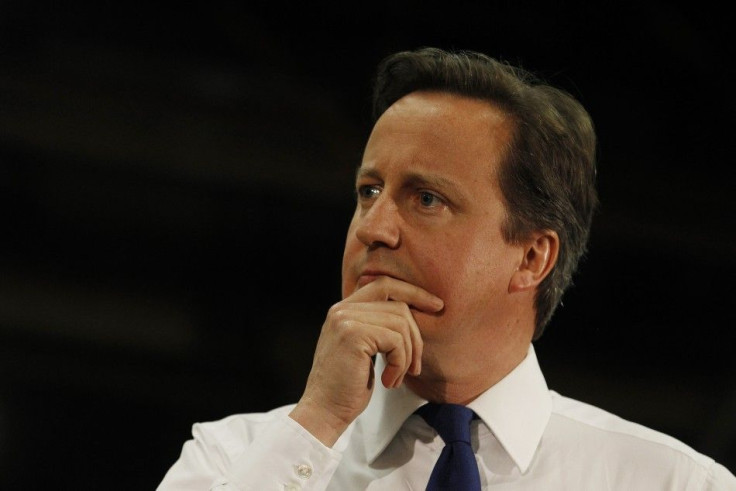 British Prime Minister David Cameron has warned that the euro zone may have to break up if the currency bloc does not move quickly towards fiscal and political union, as questions spiral over Greece's continued membership in the bloc and Spain's borrowing costs escalate.
The euro zone has to make a choice. It either has to make up, or it is looking at a potential break-up, he said during Prime Ministers Questions session in the House of Commons on Wednesday.
It [the euro zone] wants to carry on as it is it has to build a proper firewall, it has to take steps to secure the weakest members or it has to work out it has to go in a different direction… That is the choice they have to make and it is a choice they cannot long put off.
Cameron is scheduled to meet with German Chancellor Angela Merkel, new French President Francois Hollande, Italian Prime Minister Mario Monti, European Commission president José Manuel Barroso and European Council president Herman Van Rompuy by video-conference later Thursday to discuss the euro zone and Greece.
Cameron's statements came on the heels of similar warnings by Bank of England governor Sir Mervyn King that the euro zone's failure to get a grip on the debt crisis poses the biggest threat to Britain's economic recovery.
Our biggest trading partner [EU] is tearing itself apart without any obvious sign of solution, King said
The BoE reduced the UK's economic growth forecast for 2012 to 0.8 percent from 1.2 percent, largely due to concerns about euro zone debt.
Similarly, the Chancellor of Exchequer George Osborne earlier warned: The British recovery has been damaged over the last two years by uncertainty in the euro and that uncertainty would be magnified were a country to leave.
On Thursday, Cameron repeated his calls for fiscal control in the euro zone, lest it hurts the UK economy.
[It is essential to speak out about what needs to be done to safeguard the euro zone, to safeguard Britain, to take the steps to make sure we deliver the strong and stable economic growth that we want," he told a conference of businessmen in Manchester.
While the Prime Minister did not explicitly say he wants Greece to exit the euro, he warned that the Greek crisis "never really went away.
Either Europe has a committed, stable, successful euro zone… well capitalized and regulated banks, a system of fiscal burden-sharing, and supportive monetary policy across the euro zone or we are in uncharted territory which carries huge risks for everybody, he said.
As I have consistently said it is in Britain's interest for the euro zone to sort out its problems. But be in no doubt: whichever path is chosen, I am prepared to do whatever is necessary to protect this country and secure our economy and financial system.
The Prime Minister added: "I realize that countries inside the Euro zone may not relish advice from countries outside it - especially from countries, such as Britain, with debts and difficulties of their own. But this affects us too."
Cameron also rejected accusations by Labour Party leaders that the coalition government's program of seeking to cut the deficit by imposing austerity measures within Britain itself was not working.
Let me be clear, we are moving in the right direction - not rushing the task but judging it carefully," he said. "And that is why we must resist dangerous voices calling on us to retreat.
He added: We cannot blow the budget on more spending and more debt. It would mean more austerity for even longer. It is not an alternative policy, it is a cop-out.
Ed Miliband, the chief of Labour, again criticized Cameron for not focusing on growth.
"David Cameron isn't part of the solution, he is part of the problem," he told BBC.
"He promised Britain there would be recovery and he has delivered a recession. All of Europe's leaders, including David Cameron, bear responsibility for the fact that over the last two years they haven't sorted out the problems of the euro zone and they haven't had a proper plan for growth and jobs in Europe.
© Copyright IBTimes 2022. All rights reserved.
FOLLOW MORE IBT NEWS ON THE BELOW CHANNELS