Ukraine Border Clash: Guards Fight Pro-Russian Separatist Forces Near Novoazovsk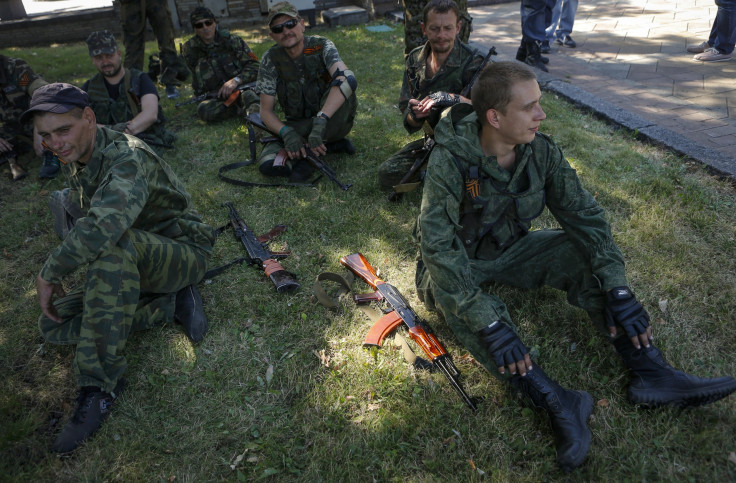 In a clash that suggests an expansion of hostilities southward, Ukrainian soldiers managed to turn back an advancing armored column of pro-Russian separatists near the Ukrainian town of Novoazovsk, about six miles away from the Russian border, military officials said on Monday.
Semen Semenchenko, the commander of the pro-Ukrainian Azov militia, said on his Facebook page that about 50 armored vehicles entered Ukraine from beyond the Russian border, Reuters reports. Afterwards, 40 of those vehicles attempted to travel toward the Ukrainian port city of Mariupal. A pro-Ukraine military commander said that the rebels may have sought to seize control of the city.
"The invasion of the Russian occupiers is taking place," Semenchenko said, adding that the advancing rebel forces were "localized and easily neutralized." Artillery fire from across the Russian border supported the attempted rebel offensive, he said.
The border clash indicates the conflict is expanding to the southern reaches of war-torn Ukraine, where fighting was previously limited to the area around the separatist-held northern cities of Donetsk and Luhansk. The leader of the Ukrainian National Guard unit near Novoazovsk provided a dire account of the clash, telling Reuters that "a war has broken out here." The separatist tanks bore the insignia of a rebel force known as the Orthodox Liberation Army, a local resident said.
Meanwhile, Russian Foreign Minister Sergei Lavrov denied knowledge of a separate rebel assault that reportedly took place in Ukrainian territory near Markine. "I have not heard of this, but there is plenty of disinformation out there about our 'incursions,'" he said.
The Ukrainian border clash took place as Russia announced it would send into Ukraine a second aid convoy ostensibly carrying humanitarian aid. "Anyone in need of aid shall receive it," Lavrov said at a press conference. "We express hope that all participants [at trade talks between Russian and Ukrainian leaders Tuesday] will urge for the removal of any obstacles to smooth aid delivery to those who are most in need of it."
The announcement of a second aid convoy was made just days after a Russian convoy exited Ukraine amid concerns about its true purpose in Ukraine. NATO condemned the first convoy as a "blatant breach of Russia's international commitments…and a further violation of Ukraine's sovereignty."
Fighting between Ukrainian government forces and pro-Russian separatists in the east of the country has left more than 2,000 dead since the conflict started last December.
© Copyright IBTimes 2023. All rights reserved.