Russia Announces Plans To Send Second Aid Convoy To Ukraine Ahead Of High-Level Talks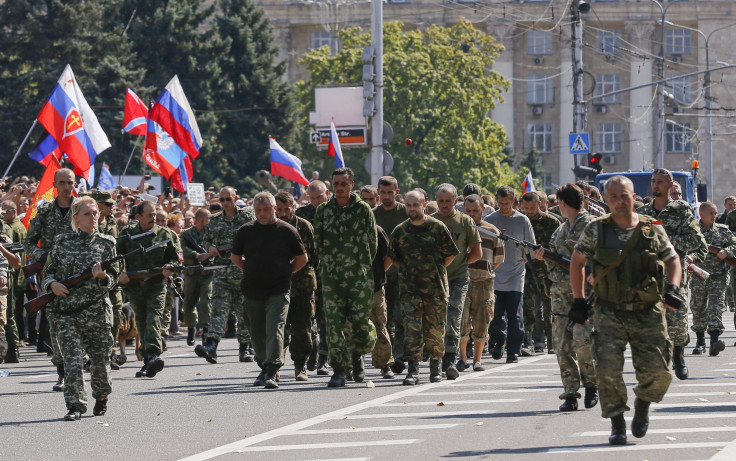 Russia, on Monday, announced plans to send a second aid convoy into strife-torn eastern Ukraine, just two days after its first convoy of 280 trucks returned to Russian territory.
Russia's announcement comes just a day after pro-Moscow rebels in eastern Ukraine paraded dozens of captured Ukrainian soldiers, amid jeers and catcalls from crowds lining the streets on the occasion of Ukraine's independence from the Soviet Union in 1991.
"Anyone in need of aid shall receive it," Russian foreign minister Sergei Lavrov reportedly said at a press conference Monday. "We certainly expect that tomorrow's meeting in Minsk will feature a discussion on the humanitarian crisis…We express hope that all participants will urge for the removal of any obstacles to smooth aid delivery to those who are most in need of it."
Tuesday's meeting is scheduled to be attended by Ukrainian President Petro Poroshenko and Russian President Vladimir Putin.
"We want to reach an agreement on all conditions for delivering a second convoy," Lavrov reportedly said, adding that the Russian government had sent a note to the Ukrainian foreign ministry on Sunday, informing it of the new convoy.
The parade in Donetsk, Lavrov, said at a press conference Monday, was "nowhere near mistreatment," adding: "I saw images of that parade and I didn't see anything close to what could be considered as humiliating."
Meanwhile, Ukrainian officials claimed that a column of armored vehicles, bearing symbols of the self-proclaimed Donetsk People's Republic, crossed over from Russia on Monday, triggering clashes between rebels and Ukrainian forces near the southeastern town of Novoazovsk, six miles from the Russian border, BBC reported.
More than 2,000 people, including hundreds of civilians, have died in recent months and thousands have been forced to flee as fighting between Ukrainian government forces and pro-Moscow separatists rages on in eastern Ukraine.
© Copyright IBTimes 2023. All rights reserved.