Ukraine Ceasefire: Kiev Says Some Rebel Shelling But Truce Largely Holding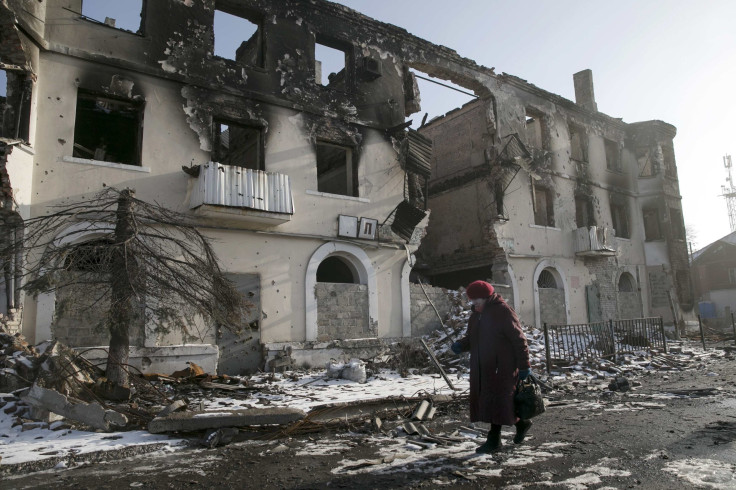 Authorities in Ukraine have reported a limited amount of shelling from pro-Russian rebels in the east of the country since a ceasefire went info effect Saturday, but said the truce was largely holding.
"As of the morning of February 15, there have been ten shelling attacks on our positions by rebels -- mainly in the area of Debaltseve," Ukrainian military spokesman Anatoly Stelmach told Reuters.
Another Ukrainian military spokesman, Vladyslav Seleznyov, told the BBC that army positions in the town of Popasna and near the villages of Zolote and Chernukhyno were fired on after the ceasefire, but added that the incidents did not have "a significant impact" on the truce.
The ceasefire, which was brokered by Ukrainian President Petro Poroshenko, Russian President Vladimir Putin, French President Francois Hollande and German Chancellor Angela Merkel on Thursday, after talks in the Belarusian capital Minsk, and came into effect at midnight local time on Saturday (5 p.m. EST).
Ukrainian President Petro Poroshenko ordered his government's forces to observe the ceasefire just before midnight, saying he hoped "the last chance [for peace] won't be lost", adding that agreements "must be honored, and we are expecting that the ceasefire deal will be adhered to".
Poroshenko has warned that if the separatists do not abide by the ceasefire, he will impose martial law throughout Ukraine's territory, CNN reported.
Key to the success or failure of the ceasefire is what takes place in the key town of Debaltseve, a transport hub which has seen fierce fighting in the days before the ceasefire.
Donetsk rebel leader Aleksandr Zakharchenko, said that rebel forces will not allow the approximately 8,000 troops loyal to Kiev in the town to leave, and said that he does not believe the town is in the area covered by the ceasefire agreement, the New York Times reports.
Rebels say they have encircled the town and cut off supply routes for the Ukrainian forces there. Kiev denies the claim.
"Unfortunately, the peace process is threatened, the rebels will use Debaltseve to undermine the ceasefire," Mr Poroshenko said during a meeting with the army chief of staff broadcast live on television, cited by Irish broadcaster RTE.
German Chancellor Angel Merkel warned Friday that the European Union would impose new sanctions on Russia if the ceasefire is not properly observed. EU sanctions, combined with a huge drop in the price of oil, have left Russia facing a difficult economic situation.
Western countries have long accused Russia of supporting the rebels in Ukraine, but Russia has consistently denied the claims. Over 5,400 people have been killed since hostilities began in April 2014.
© Copyright IBTimes 2023. All rights reserved.