After Ukraine Ceasefire Agreement, EU Warns Russia With New Sanctions If Deal Fails To End War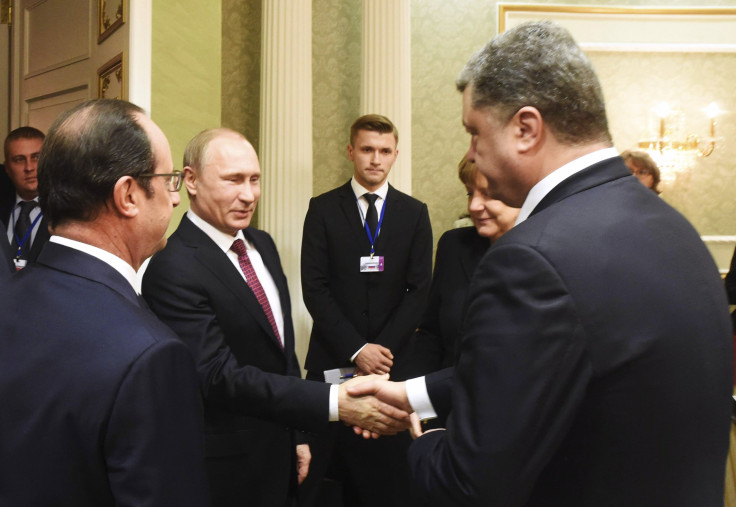 The European Union will impose new sanctions on Russia if a ceasefire agreement, signed in the Belarusian capital Minsk on Thursday, is not properly implemented to end the war between Kiev military and pro-Russian rebels in eastern Ukraine, a report said Friday, citing German Chancellor Angela Merkel.
Leaders of Russia, Germany, Ukraine and France announced Thursday that a 17-hour discussion over the Ukrainian crisis ended with both Kiev and separatists agreeing to pull out heavy weapons from the violence-torn eastern region of the country.
However, according to Merkel, EU leaders had asked officials to prepare fresh sanctions against Russia in case the ceasefire, which is scheduled to begin at midnight on Saturday, was not fully put into practice, BBC reported.
In addition to the removal of weapons from warzones, the agreement also includes the withdrawal of "foreign armed groups" from the Ukrainian territory, disarmament of "illegal groups" and exchange of prisoners. However, as Merkel noted, there are more hurdles to overcome before the conflict -- that has claimed the lives of more than 5,000 people in the past 10 months -- is completely eradicated.
While there are still hours to go before the ceasefire begins, clashes between Ukrainian forces and rebels continued on Thursday, with one separatist commander claiming that his force will not stop fighting government troops, the BBC reported.
Although the agreement covers 13 points in an effort to resolve the fighting, it did not address many crucial matters related to the conflict, leading many to dub the deal as a "fragile pact," while raising concerns that it could eventually fall apart.
Rebels claimed earlier this week that they had encircled Ukrainian troops in the city of Debaltseve, a major transport hub only 45 miles from Donetsk. But Thursday's agreement did not clarify who controls Debaltseve, which is considered to be significantly strategic for the Ukrainian army after it lost Donetsk airport to heavily armed rebels last month. The agreement also did not explain how the ceasefire will be monitored and implemented.
"Eruptions of violence could still undo all of our efforts," German Foreign Minister Frank-Walter Steinmeier said in a statement. "Today's agreement is not a comprehensive settlement and certainly no breakthrough. However, after weeks of violence, Minsk II could mark a step away from this spiral of military escalation and could lead to political impetus."
© Copyright IBTimes 2023. All rights reserved.