Ukraine Conflict: Kiev Claims It's Threatened By Rebel Air Power Backed By Russia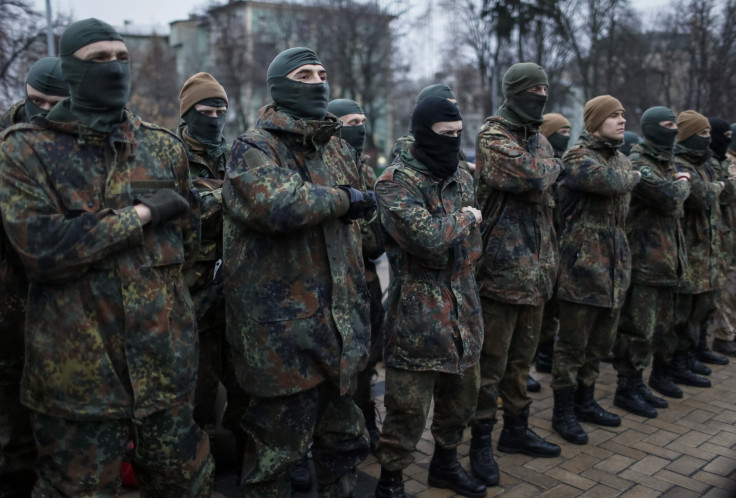 Update as of 4:30 a.m. EST: Russia said Tuesday that increased military activity by Ukraine's forces could be a roadblock in arranging a four-way summit, including Russia, Ukraine, Germany and France, on the growing unrest in eastern Ukraine, Reuters reported, citing Ria Novosti. The latest remark by Russia comes at a time when the West claims that efforts to bring the four nations together have been hampered by Moscow's failure to implement a ceasefire agreement, which was announced more than four months ago.
As fighting between pro-Russian separatists and Ukrainian forces escalates for control of Donetsk airport in eastern Ukraine, Kiev's armed forces could face the threat of Moscow-supported air attacks, local media reported Tuesday.
The self-proclaimed Luhansk People's Republic told Russian network Life News that it had formed its own air force, Kyiv Post reported, adding that if the claim is accurate, Ukraine could confront Russia-made combat aircraft targeting its airspace. Tuesday's report follows Ukrainian Prime Minister Arseniy Yatsenyuk's claim on Monday that Russian military forces and equipment had arrived from Moscow. Over the last few days, fighting between Ukrainian and pro-Russian forces has intensified in the Donetsk and Luhansk regions.
"Tanks, GRAD multiple rocket systems, BUK and SMERCH systems, radio electronic intelligence systems are not sold at local Donetsk street markets. Only the Russian army and Defense Ministry have them," Yatsenyuk said, citing Ukrainian military intelligence.
Russia has repeatedly denied involvement in the conflict in eastern Ukraine but has also admitted that several "volunteers" are currently fighting alongside rebels in the region.
While the rebels and Ukrainian government forces have both claimed that they now control the Donetsk airport, a senior commander of the self-proclaimed Donetsk People's Republic (DPR) said Monday that U.S.-made weapons and explosives were found at the airport when it was controlled by the Ukrainian military, suggesting that the U.S. may be assisting Kiev in the conflict.
"During the investigation of the new terminal, our units found large numbers of American-made weapons. Those are M16-A5 assault rifles, grenades, as well as means of communication," Ria Novosti quoted the DPR commander as saying. "A simultaneous explosion" of the explosives found in the airport would be enough to "make the whole Donetsk shudder," the official reportedly claimed.
Ever since violence between the two groups escalated last week in a bid to gain control of the airport -- portrayed as a symbol of the "Ukrainian fighting spirit" by state media -- observers have warned of a serious decline in security in the region and of the possibility of fighting spreading further into the city, BBC News reported, citing the Organisation for Security and Co-operation in Europe (OSCE).
"What our monitors have been reporting is a serious deterioration of the security situation in the past few days with an increase in ceasefire violations," an OSCE spokesperson told BBC News. "One of our biggest concerns is, of course, the civilians getting caught up in the conflict especially in and around Donetsk airport. Fighting is moving further and further into Donetsk city."
© Copyright IBTimes 2023. All rights reserved.