Ukraine Crisis: Francois Hollande Has Back-To-Back Dinners With Obama And Putin In Hopes Of Progress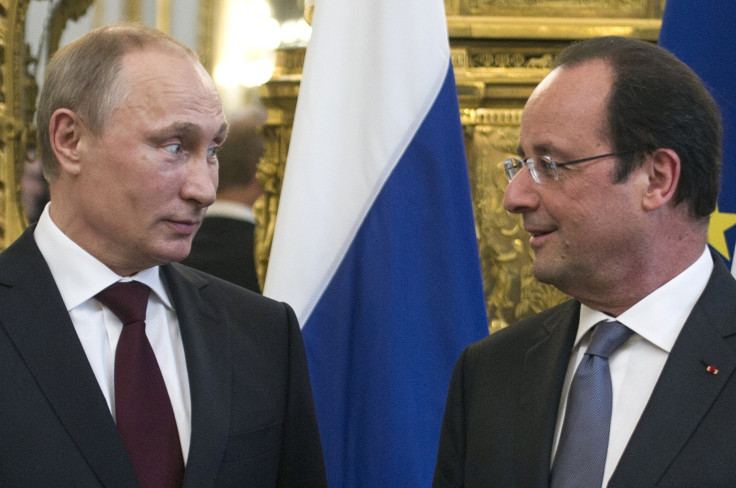 Of all the 18 world leaders gathering this week in France to commemorate the 70th anniversary of the Allied D-Day invasion of Normandy, French President Francois Hollande has the busiest week ahead.
Hollande will not only have his hands full with hosting the ceremonies, he'll also have some international politics to mediate. On Thursday, Hollande met with Queen Elizabeth II, then had an early dinner with U.S. President Barack Obama overlooking Les Champs-Elysees in Paris and then rushed across town to his residence for a late dinner with Russian President Vladimir Putin in hopes of making progress in Ukraine.
The French leader also is trying to arrange the first meeting between Putin and Ukrainian President-elect Petro Poroshenko, who will represent his country at the D-Day observances Friday. Hollande's first step is just getting Putin to shake Poroshenko's hand, a sort of informal recognition of his legitimacy from the Russian president.
Putin has hinted he is open to a meeting, and Russia's ambassador to Ukraine will attend Poroshenko's inauguration in Kiev on Saturday.
As for a Putin-Obama meeting, according to the Russians, its Obama that's holding out. He proposed a meeting on Wednesday, but plans haven't been made yet.
"There is no reason to think President Obama does not want to talk to the Russian president," Putin said Wednesday. "It's his choice. I am ready for dialogue."
While Putin has somewhat softened his position on Ukraine, he proved on Wednesday he's still full of the snarky one-liners he's known for. When asked what he thought about the G7 meeting he was cut out of earlier this week over Ukraine, he had a simple message for the Western leaders: "Bon appetit."
© Copyright IBTimes 2023. All rights reserved.