Ukraine Crisis Heats Up Amid Reports Of Military Movements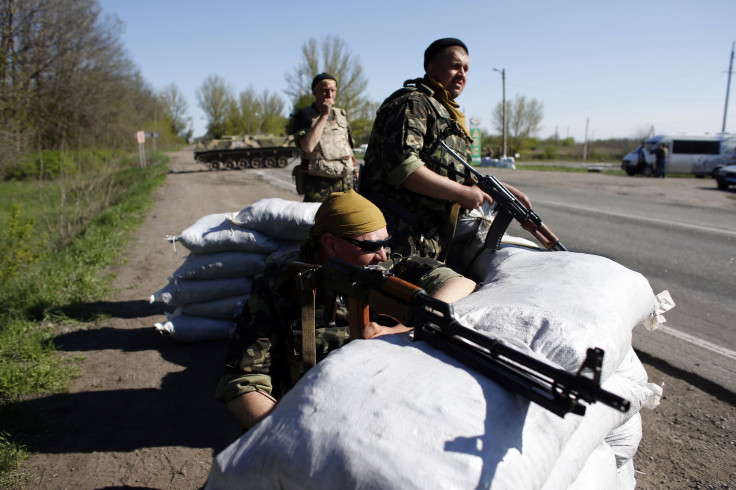 The situation is heating up in Ukraine in the wake of recent violence there and as nations including Russia, Ukraine and the U.S. move forces around the region.
Ukrainian security forces killed at least five pro-Russian separatists outside of Slovyansk, the Interior Ministry in Kiev said Thursday. The fighting, which took place at three checkpoints manned by armed groups, occurred after Ukraine's acting president, Oleksandr Turchynov, announced on Tuesday a plan to resume "antiterrorist operations" in the east of the country.
Pro-Russian forces in eastern Ukraine have occupied government buildings and taken journalists hostage, as they seek to establish a separate political entity with ties to Russia.
Russia reacted Thursday by undertaking military drills along the Ukrainian border, Defense Minister Sergei Shoigu said. This included troop movements on the ground and air drills. Up to 40,000 Russian troops have been positioned along the border, according to an estimate by NATO officials.
"The starting gun on the use of weapons against their own civilians has already been fired," Shoigu said, according to the Interfax news service. "We have to react to such developments."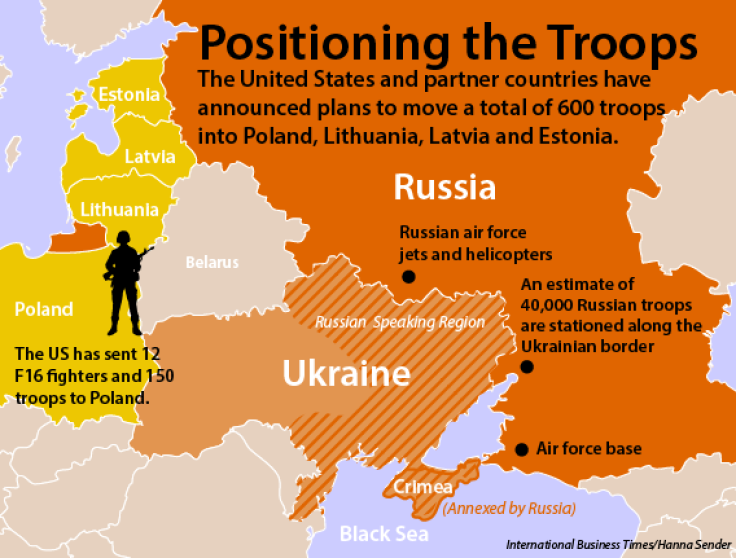 The Slovyansk operation by Ukrainian forces has since been "paused to reformulate the plan," according to an official from the Interior Ministry. Meanwhile, Ukraine has given Russia a 48-hour ultimatum to give details about its military exercises along the border, the Foreign Ministry said Thursday.
To assuage fears from Eastern European NATO allies concerned over Russia's movements along Ukraine's borders, the U.S. has deployed 150 soldiers to NATO member Poland on Wednesday with plans to send a total of around 600 troops to Estonia, Latvia and Lithuania as part of an effort to show support for Ukraine's beleaguered government.
"It's a very tangible representation of our commitment to our security obligations in Europe, and the message is to the people of those countries and to the alliance that we do take it seriously," Rear Adm. John Kirby, Pentagon press secretary, told reporters. "And I think if there's a message to Moscow, it is the same exact message -- that we take our obligations very, very seriously on the continent of Europe."
William Booth, a correspondent for the Washington Post, shared an image of a flier allegedly dropped by a Ukrainian helicopter warning citizens of Russian agents and demonstrations.
Graham Phillips, a British journalist based in Kiev, tweeted a photo of barricades at a Sloviansk checkpoint and what appeared to be guards removing a man from his car at gunpoint.
A YouTube video posted to Reddit shows a dashboard camera capturing a convoy of Russian army tanks supposedly near the Ukrainian border.
Russian state media broadcast footage of armed personnel carriers flying Ukrainian flags approaching Slovyansk. At the time there were no reports of forces moving into the center of the city, where most of the pro-Russian agitation is taking place, the Wall Street Journal reported.
Military movements in Ukraine, Russia and Poland come a week after a deal was struck in Geneva among Russia, Ukraine, the U.S. and the European Union that required the withdrawal of pro-Russian militants in the eastern part of the country.
Since then, armed groups have refused to leave the public buildings they have seized until what they call Ukraine's current "illegal" government is dissolved.
In Mariupol, a city in eastern Ukraine where public buildings have been occupied by pro-Russian insurgents, police have cleared the town hall of protesters, Interior Minister Arsen Avakov said Thursday. But local police officers and protesters tell a different story of masked gunmen storming buildings and beating protesters, Yulia Lasazan, a spokeswoman for Mariupol's police department, told the Associated Press.
The resistance is aligned with the message from pro-Russian groups that are pushing for Russian-speaking parts of the country to either become part of a newly federalized Ukraine or join Russia.
Denis Pushilin, head of the self-proclaimed People's Republic of Donetsk, has remained firm on his demand to hold a referendum on May 11 -- similar to the one held in the Crimean peninsula last month -- to vote on "sovereignty" for the region. "We will be part of Ukraine until we separate from it," he said.
World leaders have weighed in on the latest developments. Russian President Vladimir Putin reacted to the news of Ukrainian forces mobilizing, saying it's a move that will have consequences for Ukraine's interim government.
"If the Kiev regime begins to use the army against its own citizens, that is, without a doubt, a very serious crime," he said. "This will certainly have an impact on those who make such decisions and on our bilateral relations."
President Barack Obama responded Thursday by reiterating that new sanctions against Russia are "teed up," even though they may not change Putin's intentions.
"It's important to emphasize that throughout this process our goal has been to change Mr. Putin's calculus, that our preference is to resolve this diplomatically, that sanctions hurt Russia more than anybody else but they are disruptive to the global economy," Obama said.
© Copyright IBTimes 2023. All rights reserved.