Ukraine Crisis: Parliament Forms New Government With Three Foreign Nationals At Key Posts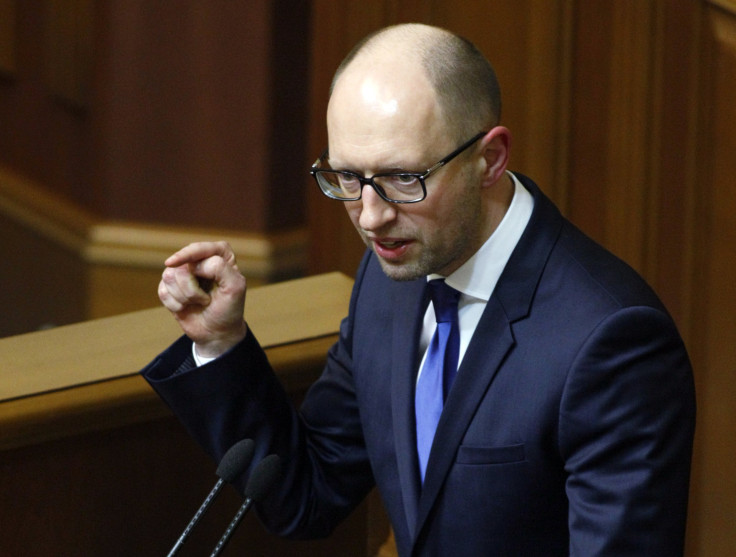 Ukraine's parliament approved a new government Tuesday expected to push for closer ties with Western Europe and away from Russia. The government is led by Arseny Yatsenyuk, who has been prime minister since February. All ministerial candidates were nominated by President Petro Poroshenko and approved by parliament.
Parliament members were voted into office in a popular election Oct. 26 and were immediately tasked with forming a new government to lead the country at a time of heightened violence between the Ukrainian military and pro-Russian separatists seeking to cut ties with the pro-European contingent in western Ukraine. The appointments follow weeks of negotiations between parties in Ukraine's parliament, the Verkhovna Rada, the Associated Press reported.
Two key ministers, Foreign Minister Pavlo Klimkin and Defense Minister Stepan Poltorak, were overwhelmingly chosen to remain at their posts. Both became prominent voices in the government this year as a bloody conflict with pro-Russian separatists in eastern Ukraine grew to an international crisis between Russia and the West.
A ceasefire signed in early September crumbled throughout November with sporadic shelling around Donetsk, a rebel bastion in the east. Both sides allege the other forced an end to the ceasefire. The appointments mean Ukraine will likely continue to put pressure on Russia, which the government accuses of invading the country.
Three foreign nationals were given Ukrainian citizenship Tuesday so they could take ministerial positions. Natalya Yaresko, an American national with experience at the State Department who has worked in Ukraine for 20 years, was appointed finance minister, Radio Free Europe reported. Aleksandr Kvitashvili, a Georgian, was named health minister, and Lithuanian Aivaras Abromavicius was made economy minister.
"There are absolutely extraordinary challenges facing Ukraine," said Poroshenko, according to Al Jazeera. "All this requires innovative solutions in the government. These decisions mean searching for candidates for the new government not only in Ukraine but also abroad."
© Copyright IBTimes 2023. All rights reserved.