Ukraine Crisis: Russia Moves From Sending Soldiers To Training Rebel Fighters During Shaky Ceasefire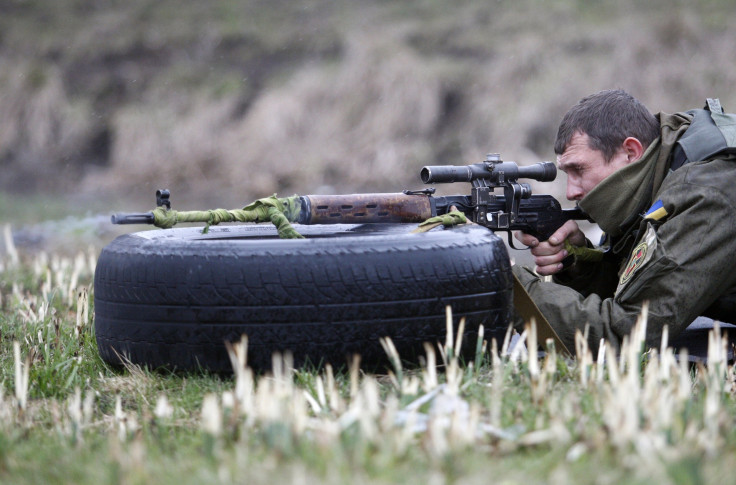 As a tenuous ceasefire continues to hold in strife-torn eastern Ukraine, Russian forces in the country are moving from direct participation in military action, to training rebel fighters in the use of sophisticated weaponry, according to reports.
Russian forces are increasing their training of rebels to ensure that they are capable of operating sophisticated Russian weaponry and defending the territory they control, according to the Associated Press (AP). Both NATO and an independent London-based Russian scholar estimate that Russia has several hundred military trainers in eastern Ukraine, the agency reports.
Gen. Philip Breedlove, commander of NATO forces in Europe, told the agency that intelligence indicated that 250-300 Russian special forces trainers were involved in giving instruction to rebel fighters in Ukraine.
Russia has long denied that its military forces have had any kind of direct involvement in the conflict in Ukraine. However, Western military officers and rebel officials have reported the presence of Russian forces in the country.
Alexander Zakharchenko, prime minister of the self-proclaimed Donetsk People's Republic, said late last year that his forces had been supplemented by a cohort of fighters trained in Russia.
"There are 1,200 individuals who have gone through training over a four-month period on the territory of the Russian Federation and who have been introduced here at the most decisive moment," Zakharchenko told the Guardian.
Russia has attracted international condemnation for its supposed military intervention in Ukraine, which it has consistently denied. It has also been subject to sanctions from the U.S. and EU, which have had a significant impact on the country's economy.
At least 6,000 people have been killed in the conflict in Ukraine, since hostilities began in earnest in April last year, according to a United Nations report.
Despite concerns that the EU, which is heavily dependent on Russian exports of natural gas, would ease its sanctions regime against Russia, the bloc determined late last month that it would keep the penalties in place until a peace deal in Ukraine had been fully implemented.
© Copyright IBTimes 2023. All rights reserved.
FOLLOW MORE IBT NEWS ON THE BELOW CHANNELS