Ukraine Crisis Update: NATO Proposes Biggest Military Expansion Since Cold War To Combat Russian Aggression In Eastern Europe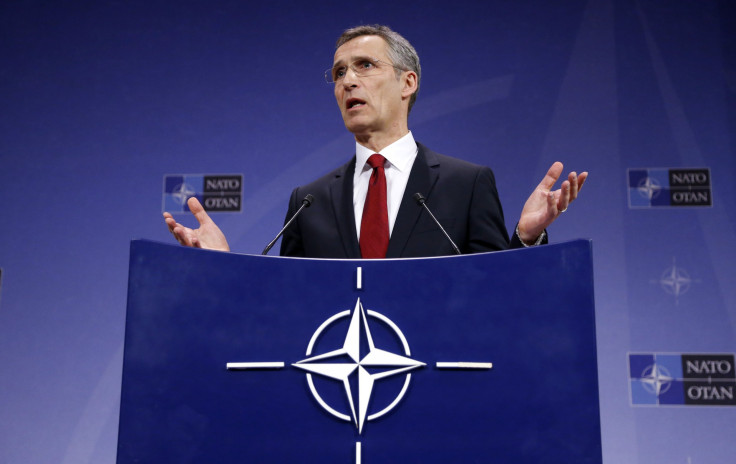 Top NATO leaders met Thursday in Brussels, Belgium, to finalize a plan to more than double the alliance's rapid-reaction force and to install a new series of command centers in Eastern Europe to curtail Russian military aggression in the region, reports said. The bolstered security comes after Russia's annexation of Crimea from Ukraine last March, NATO Secretary-General Jens Stoltenberg said.
"It is a response to what we have seen from Russia over a period of time, and it is in full accordance with our international obligations," Stoltenberg told reporters, according to Reuters. NATO's plan purportedly includes the rapid-reaction force's increase from 13,000 to 30,000 soldiers, as well as the establishment of a "spearhead" unit of 5,000 soldiers for deployment within just days, both pending approval Thursday. Germany, France and Britain were said to be among the nations that would alternate command of the rapid-reaction force.
The efforts constitute NATO's biggest military expansion since the end of the Cold War, Stoltenberg said, according to the BBC. Under the terms of a 1997 agreement, NATO pledged not to maintain a significant number of military troops in Eastern Europe. "I very much underline that this is something we do because we have to adapt our forces when we see that the world is changing," Stoltenberg said.
The new NATO command centers will be established in Poland, Bulgaria, Romania, Estonia, Latvia and Lithuania, U.S. Ambassador to NATO Douglas Lute said. The organization's existing base in Poland will also be expanded.
NATO and the United States have long accused Russia of direct and operational support of pro-Russian separatist rebels against forces loyal to the Ukrainian government on both sides of the eastern Ukraine border. Russia has repeatedly denied that its troops are active in the region.
NATO's meeting occurred as U.S. Secretary of State John Kerry traveled to Ukraine Thursday to meet with the nation's top leaders, including President Petro Poroshenko. The United States will provide $16.4 million in civilian aid as legislators mull the possibility of sending arms to support Ukraine's military during the crisis.
© Copyright IBTimes 2023. All rights reserved.