Ukraine Crisis: US House Backs $1B Lethal Aid To Ukraine As Obama Warns Putin Ahead Of Minsk Talks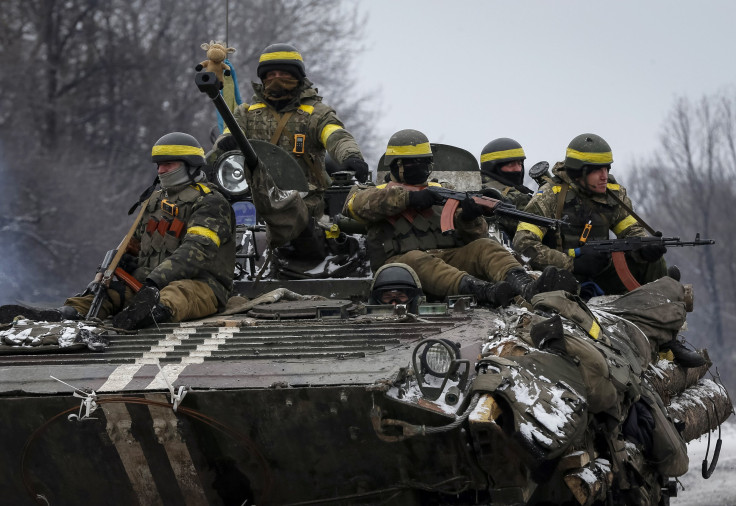 The U.S. House of Representatives, on Tuesday, introduced new legislation to provide lethal aid worth $1 billion to Ukraine amid constant pressure from Congress on President Barack Obama to help Kiev defend itself against pro-Russian rebels.
The bill, introduced by Rep. Mac Thornberry, R-Texas, and Rep. Adam Smith, D-Wash. -- members of the House Armed Services Committee -- calls for training equipment, lethal weapons and logistics support for the military and national security forces of Ukraine through Sept. 30, 2017, to help that country protect "its sovereign territory against foreign aggressors," The Associated Press (AP) reported. On Tuesday, Obama had warned Russia against taking "aggressive actions" in Ukraine.
"It seems Russia has decided to go back to the Cold War," AP quoted Smith as saying at a news conference, citing Russia's involvement in eastern Ukraine, and its move last year to annex the Crimean peninsula. The imposition of Western economic sanctions "has not at all changed President (Vladimir) Putin's calculus," Smith added.
According to Thornberry, there is significant bipartisan support to the idea of helping Ukrainian military forces defend themselves against separatists in the conflict, which has so far claimed over 5,300 lives over the past year, and displaced thousands.
The latest bipartisan legislation comes after Republicans and Democrats appealed to the Obama administration to provide lethal defensive weapons as well as additional non-lethal assistance to Ukraine. They wrote in a report that the U.S. should provide light anti-armor missiles to Kiev, "given the large numbers of armored vehicles that the Russians have deployed in Donetsk and Luhansk and the abysmal condition of the Ukrainian military's light anti-armor weapons."
The West has repeatedly accused Russia of supporting rebels in eastern Ukraine and of providing them with heavy weaponry. However, Moscow has denied the allegations.
Earlier this week, Obama met with German Chancellor Angela Merkel who is opposed to the idea of lethal aid. And, on Tuesday, the American president warned Russian President Vladimir Putin of larger consequences if Russia did not stop supporting separatists in eastern Ukraine.
"The President emphasized the importance of reaching and implementing a negotiated settlement underpinned by the commitments in the Minsk agreement," the White House said, in a statement. "However, if Russia continues its aggressive actions in Ukraine, including by sending troops, weapons, and financing to support the separatists, the costs for Russia will rise."
Putin is due to meet Merkel, Ukrainian President Petro Poroshenko and French President François Hollande at a summit in Minsk, Belarus, on Wednesday, to discuss the crisis in eastern Ukraine.
© Copyright IBTimes 2023. All rights reserved.