Ukraine Pressures Japanese Pacifism, Taboo On Offensive Weapons And Nukes
KEY POINTS
Japan is mired in territorial conflicts with Russia, China and the Koreas
There is concern that China may seize disputed East China Sea islands
Defense Minister is looking for funds to strengthen the country's defenses
Japan may officially be a pacifist with its constitution outlawing war as a means to settle international disputes, but the Russian invasion of Ukraine has swayed public opinion in favor of building a better military.
According to a poll conducted by Yomiuri newspaper, almost two-thirds of respondents said they wanted to see Japan's defenses strengthened, reported Bloomberg. Japan is mired in territorial conflicts with Russia and China over Kuril Island and Senkakus, respectively, besides other conflicts with North Korea.
The survey suggests that voters are worried that a failure to halt Russia could embolden China to take action against Taiwan or seize disputed East China Sea islands administered by Japan. Tokyo had earlier expressed fears that any armed invasion of Taiwan would present a serious threat to Japan.
"The Ukraine shock is beginning to change Japan's norms and beliefs," Kyoko Hatakeyama, a professor at the Graduate School of International Studies and Regional Development at the University of Niigata, told Bloomberg. "But it has a long way to go," he added.
Japan, which depends on the "nuclear umbrella" of the U.S., had swiftly imposed sanctions on Russia and sent non-lethal military aid to Ukraine. But, off late, Japan is bent on upgrading its military, an endeavor endorsed by former Prime Minister Shinzo Abe.
Abe recently called for steps that would shatter taboos over nuclear weapons or obtain offensive systems such as missiles. He insisted that Japan should obtain the capability to strike at the "center" of an enemy nation and argued that greater defense spending would help avoid a clash with China. "There's no nation in the world that will risk lives to defend a country that doesn't make efforts for its own defense," he was quoted by the news outlet.
Japanese Defence Minister Nobuo Kishi told reporters Tuesday that his agency wanted funds for a "drastic" increase to the country's defenses.
According to Brad Glosserman, visiting professor at the Center for Rule-making Strategies at Tama University in Tokyo, there is still plenty Japan can do for its own security by bolstering the US alliance. He listed contingency planning on Taiwan, and better cooperation with South Korea as possibilities. "Every US administration including this one has wanted the Japanese to spend more. They're not going to pull a full Berlin, they're not going to do that huge jump. But you could see some more money," he added.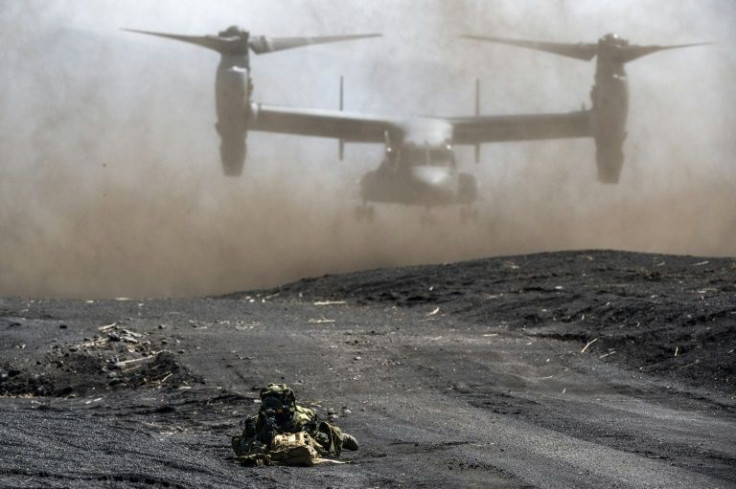 © Copyright IBTimes 2023. All rights reserved.