Ukraine War Deserters: 16,000 Troops Abandoned Military Since Conflict Began, Kiev Official Says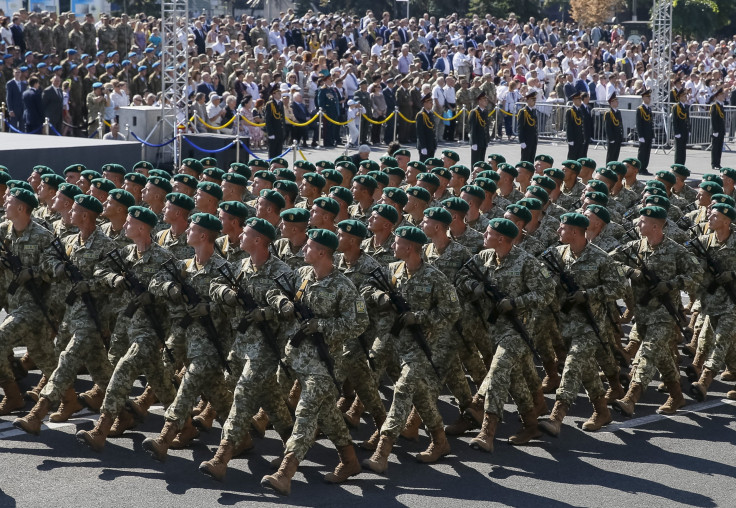 About 16,000 Ukrainian troops, some with their weapons, have deserted from the country's armed forces since the war in the Donbass region of the country erupted in April 2014, according to figures offered Monday by Kiev's chief military prosecutor, Anatoly Matios. Despite relative calm across east Ukraine, the Ukrainian military are continuing to build forces to combat future attacks by Russian-backed rebels and possibly retake the Donetsk and Luhansk regions.
"We have investigated 16,000 criminal cases against deserters who left the zone of the military operation; a significant number left together with their weapons," Matios noted in an interview for the Russian news site Sputnik.
Matios said the high number of desertions traces to the interior ministry's opening up cases against only 1,000 suspected absconders, showing that there was a good chance of escaping punishment. Just one month ago, the prosecutor's office said that the number of deserters was about 6,500 and declining.
"In the course of a year, the organs of the Internal Affairs Ministry have not been able to find more than a thousand of them. Where did they go? They did not fly away; they went home," said Matios in the interview. "This means that local police are not doing their job, with their monthly salary of 2,000 hryvnia [about $95 US]. It means that the whole system is not working."
Ukrainian Armed Forces Over Time | FindTheData
It's believed that most deserters are from the ultra-nationalist volunteer battalions, rather than the regular army, according to Sputnik. The concern is that the weapons could be used to form unapproved military groups or criminal gangs.
Other men have been avoiding military service by skipping the draft. Last month, the deputy chief of the Ukrainian Armed Forces' mobilization department, Colonel Alexander Pravdivets, said that around 27,000 men had escaped the country's sixth wave of mobilization by going into hiding, changing their address or leaving Ukraine altogether, with medical exemptions also going up.
© Copyright IBTimes 2023. All rights reserved.