Ukraine War: Rebels Seize Control Of Key Route Used By Ukrainian Military To Ship Ammunition As Battle Over Debaltsevo Intensifies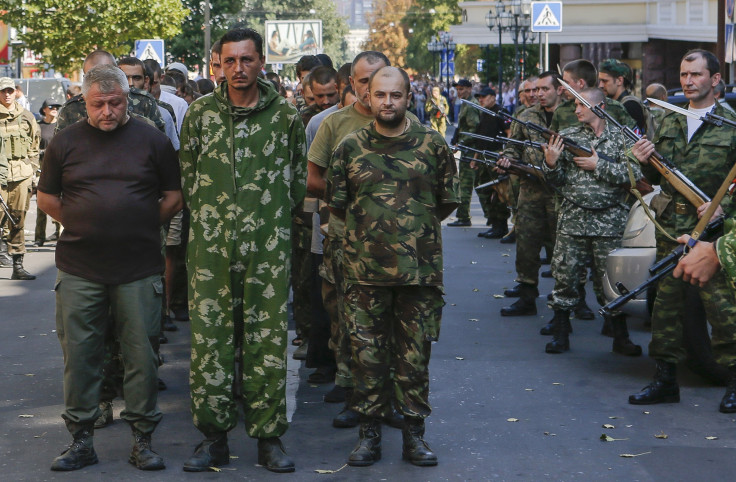 Rebels from Ukraine's self-proclaimed Donetsk People's Republic claimed Monday they had seized control of a key route used by the Ukrainian military to ship ammunition and other supplies to troops. The Russian separatists alleged they had taken control of the village of Logvinovo, a strategic gain bordering a highway "used earlier for supplying the Ukrainian military with ammunition and military hardware," rebel leaders said, according to the Russian news agency ITAR-Tass, which is widely criticized for its pro-Moscow brand of journalism.
A spokesman for the rebels said Ukrainian forces had been pushed out of Logvinovo, but Ukrainian forces later disputed the claim. Government spokesman Alexander Mutzyanyk told RIA Novosti the attempted militia attacks were fended off by Ukrainian troops.
The Logvinovo route connects to one of Ukraine's biggest railroad junctions, Debaltsevo, which has become the epicenter of the ongoing battle between the Russian separatists and Kiev in recent weeks. Amid the growing clashes, U.S. officials vowed Monday to send more economic aid and "other kinds" of assistance to Ukraine, the Telegraph reported.
"I have no doubt that additional assistance of [the] economic kind and other kinds will be going to Ukraine," Secretary of State John Kerry said in an interview on NBC's "Meet the Press" Sunday. "We do so understand that there is no military solution. The solution is a political, diplomatic one."
German Chancellor Angela Merkel met with President Barack Obama Monday reportedly to persuade him not to provide weapons to Ukraine, saying such a deal would unnecessarily increase tensions between Russia and the West.
"The problem is that I cannot envisage any situation in which an improved equipment of the Ukrainian army leads to a situation where President Putin is so impressed that he will lose militarily," Merkel said in a speech Saturday. "There's no way to win this militarily -- that's the bitter truth. The international community has to think of a different approach."
© Copyright IBTimes 2022. All rights reserved.
FOLLOW MORE IBT NEWS ON THE BELOW CHANNELS