Ukrainian Prime Minister Arseniy Yatsenyuk Resigns Amid Splintering Parliament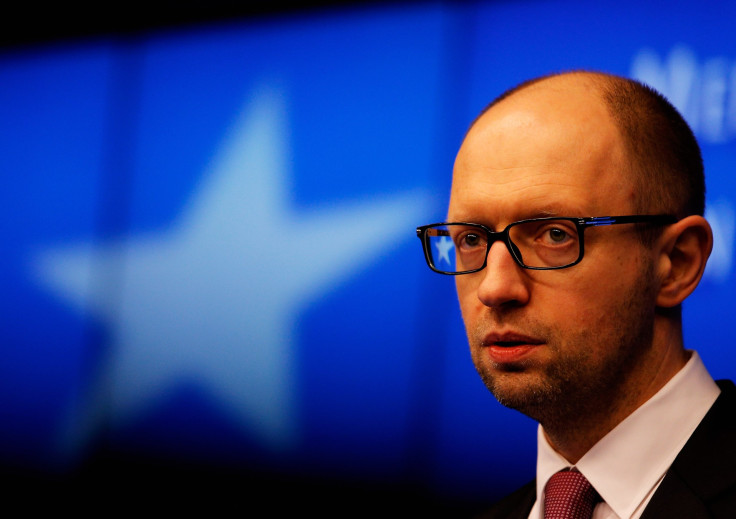 UPDATE: 2:24 p.m. EDT – U.S. Vice President Joe Biden called Ukrainian Prime Minister Arseniy Yatsenyuk to thank him for his service, after Yatsenyuk announced his plans to resign Sunday. Biden congratulated Ukraine on "the strides it has made on difficult but necessary economic reforms, the signature of the European Union association agreement, and the work it has done to increase energy independence," while under Yatsenyuk's leadership, a statement from the White House reported.
Original Story:
Ukrainian Prime Minister Arseniy Yatsenyuk announced his resignation in a televised address Sunday, the Associated Press reported. The resignation is set to be announced in Parliament Tuesday, and it followed after months of low approval ratings pushed the president to call for the prime minister's resignation.
"From today I see my goals as broader than the powers of the head of the government," Yatsenyuk said, AP reported, adding that he would look to ensure that the ruling coalition government kept control.
The resignation of Yatsenyuk was part of a larger cabinet reshuffle, as Ukrainian citizens have lamented the slow pace of reforms after President Petro Poroshenko rose to power in 2014, promising to crack down on corruption. Both Yatsenyuk and Poroshenko's approval ratings have dipped in recent months, and Poroshenko called for the prime minister's resignation in February.
"To restore trust, therapy is too little; surgery is needed," Poroshenko said in a statement in February that called both for the resignation of the prime minister and that of Prosecutor General Viktor Shokin.
Yatsenyuk had been an important figure in the 2014 protest movement that led to an overthrow of the ruling Soviet-friendly government. The 41 year-old banker had promised to restore growth to the nation through belt-tightening measures and a crackdown on the business tycoons that had long enjoyed close ties with the government. The public soon accused the prime minister of not fulfilling his promises and indeed of cooperating with the billionaires he had vowed to dismantle.
After Yatsenyuk's cabinet survived a no-confidence vote in February, two parties left the ruling government coalition in protest, leaving the coalition without a majority in Parliament. If the government cannot secure a majority through coalition soon, early elections could be triggered.
"It's important that Ukraine's leaders set aside their parochial differences, put the vested interests that have hindered the country's progress for decades squarely in the past, and press forward on vital reforms," read a joint statement from nine international ambassadors in February following the resignation of progressive Ukrainian Economy Minister Aivaras Abromavicius.
© Copyright IBTimes 2023. All rights reserved.