Ukraine's President Calls For Prime Minister's Resignation Amid Political Crisis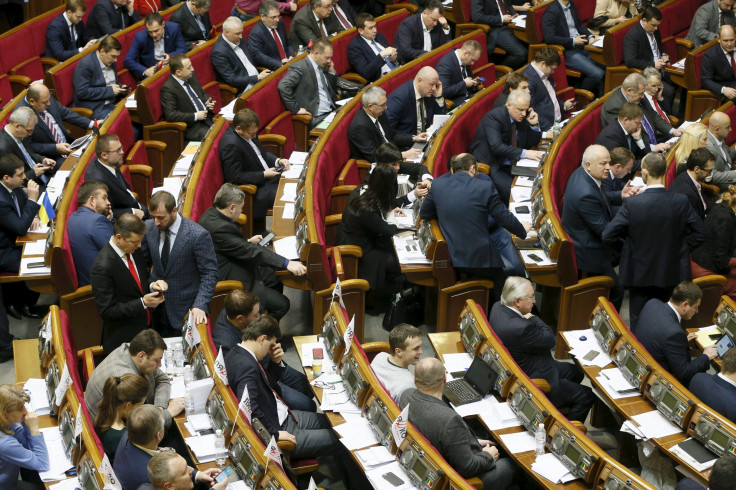 Ukraine's President Petro Poroshenko called for Prime Minister Arseniy Yatsenyuk to resign and a total Cabinet reshuffle Tuesday amid a growing crisis following the resignation of several reform-minded politicians who accused the government of giving only lip service to fighting corruption. Protesters gathered outside the Parliament in Kiev to demand a crackdown on corruption and improved economic conditions ahead of a scheduled no-confidence vote, local media reported.
In a statement on the presidential website, Poroshenko also called for the resignation of Prosecutor General Viktor Shokin, acknowledging that a government reboot was necessary to avoid early elections.
"To restore trust, therapy is too little; surgery is needed," said Poroshenko's statement, which paved the way for the formation of a technocratic government. He said political infighting in Ukraine served the interests of the country's neighbor, Russia.
Poroshenko and Yatsenyuk are both part of the ruling coalition and have seen their approval ratings drop dramatically in recent months, with citizens unhappy over the pace of reforms. Members of Parliament, the Verkhovna Rada, will need 226 votes Tuesday to dismiss Yatsenyuk and begin the process of selecting a new prime minister, AFP reported.
The vote comes at a difficult moment, with the International Monetary Fund putting its economic assistance on hold. Economy Minister Aivaras Abromavicius resigned earlier in the month and publicly accused top levels of the government of impeding needed economic reforms. Deputy Prosecutor General Vitaly Kasko resigned Monday with similar accusations and complaints, the Associated Press reported.
"My team and I have no wish to be a cover for open corruption or puppets under the control of those who want to establish control over state money in the style of the old authorities," Abromavicius said at the time of his resignation, Reuters reported.
Relations between Ukraine and Russia are at their worst following Russia's annexation of Crimea in March 2014 and the conflict in eastern Ukraine that has pitted Ukrainian government forces against Russian-backed rebels. The conflict has left more than 9,000 people dead, and fighting flared again Monday as the government reported three servicemen killed and seven others wounded.
© Copyright IBTimes 2022. All rights reserved.
FOLLOW MORE IBT NEWS ON THE BELOW CHANNELS