Ukraine Tax Controversy: Petro Poroshenko Promises Reforms Amid Panama Papers Fallout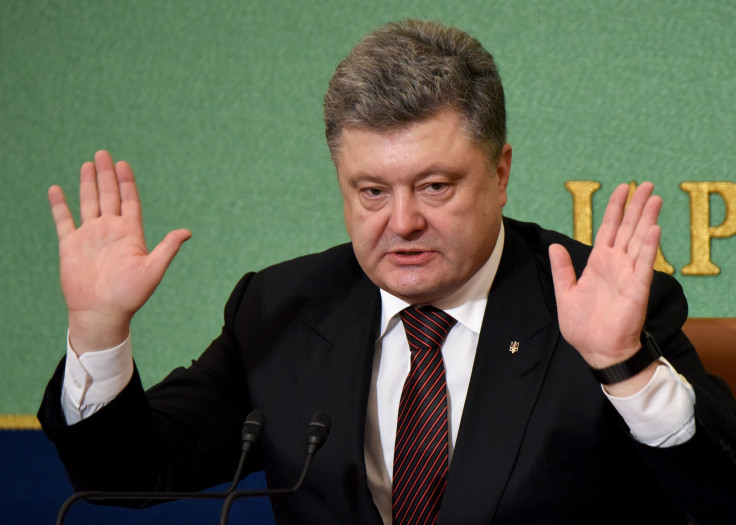 Ukrainian President Petro Poroshenko promised to reform his country's tax system Wednesday to make tax evasion impossible. Poroshenko was one of several dozen high-profile names identified in the Panama Papers leaks that revealed the offshore accounts of political figures, prominent businessmen and some celebrities.
"I plan to introduce the significant reform which can make impossible … using offshore companies and offshore accounts in Ukraine. And this is the significant part of my next step of my reform program," Poroshenko told reporters in Tokyo on Wednesday.
Poroshenko came under fire after the leak from law firm Mossack Fonseca revealed he had an offshore account. The Ukrainian president has staunchly denied any wrongdoing, saying the offshore account was a way to separate his political life from his private company.
Notable Public Figures Implicated in the Panama Papers | Graphiq
The Ukrainian president was a billionaire when he took office in 2014, after making his money as a confectioner tycoon. Poroshenko took power following nationwide protests that toppled Russian-backed former President Viktor Yanukovych, who had overseen a government that was rife with corruption. An offshore holding company was the only way to put the assets from his candy company in a blind trust with the Rothschild Bank when he took office, he said.
"Immediately when I became president, I declared that all my businesses I put in the absolutely transparent blind trust of the biggest investor bank in the world. Now I can mention this bank. This is Rothschild Bank," he said at the same news conference in Tokyo.
Poroshenko's promises came just one day after Icelandic Prime Minister Sigmundur David Gunnlaugsson resigned. Thousands of Iceland citizens had protested in front of Parliament on Monday after the same leak revealed that Gunnlaugsson and his wife had owned a company in the British Virgin Islands that may have served as a creditor to the nation's faulty banks during the economic crisis of 2008. The status of his resignation remains murky, however, as he said later Tuesday night that he was stepping aside only temporarily.
© Copyright IBTimes 2023. All rights reserved.