Ukrainians Hold Snap Vote; Rebel-Held Areas Not Partaking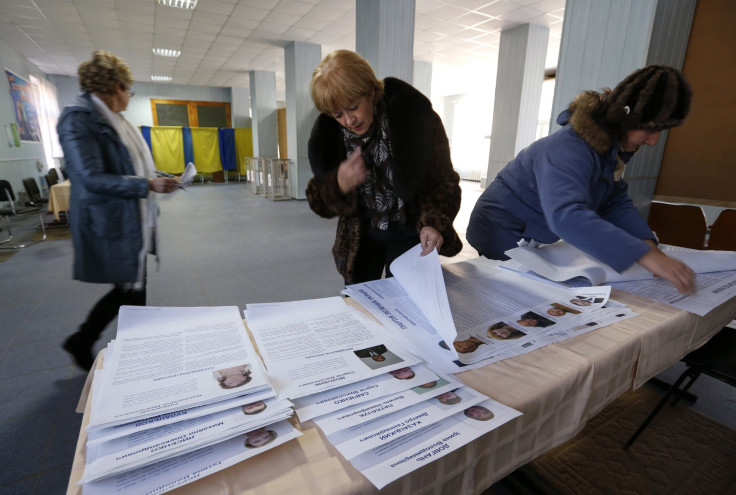 Ukrainians voted Sunday in a snap election for a parliament President Petro Poroshenko hopes will take a more pro-European stance and sweep out the remaining supporters of ousted President Viktor Yanukovych. Rebel held regions of Donetsk and Luhansk, home to around 3 million people, will not take part in the official vote, instead going to the polls Nov. 2 to elect their own government.
Crimea, which seceded and allied itself with Russia, also will not take part in the vote but Ukrainians that have kept their Ukrainian citizenship will be allowed to travel into Ukraine and take part.
The vote comes at a tense time for Ukraine as clashes continue in the East, and, with winter approaching, as Russia cuts off the country's gas supply. Ukraine's GDP is expected to drop 7 percent to 10 percent this year.
Poroshenko visited the government-held town of Kramatorsk in the war-torn East.
"I have come here to defend the electoral rights of service personnel," he said. "Today on territory liberated by Ukrainian servicemen they will vote for the European future of our country."
The head of the body appointed to oversee the election, the Organization for Security and Cooperation in Europe, said the election was the most challenging he had ever observed. Swedish Member of Parliament Kent Harstedt said hundreds of thousands of displaced persons would be unable to vote, but said he hoped the vote would be a turning point.
The group is also present in Moscow where it is expected around 3 million Ukrainians will vote.
Around half of the 450 seats will be allocated proportionately based on the nationwide vote with each of the 10 participating parties required to win at least 5 percent to gain representation in the parliament. The rest, 198 seats, will be voted in from constituencies across Ukraine. Crimea will represent 27 seats in the parliament and rebel-held areas will remain vacant.
© Copyright IBTimes 2023. All rights reserved.