UN Blacklists North Korean Shipping Company For Smuggling MiG-21 Jet Fighters to Korea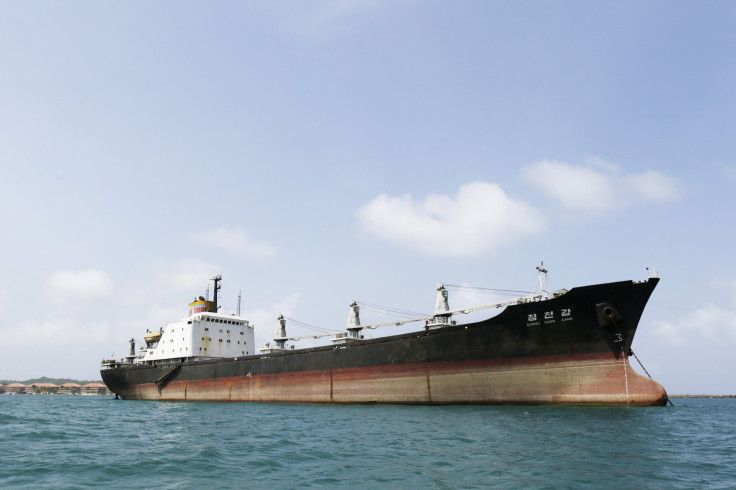 A North Korean shipping company was blacklisted Monday by the United Nations Security Council after one of its ships, the Chong Chon Gang, was caught last year trying to smuggle Soviet-era arms, including two MiG-21 fighter planes.
Due to the U.N. blacklist, Ocean Maritime Management, which owns the vessel, now faces an international travel ban along with the confiscation of all the company's international assets, a Reuters report said. In a violation of the sanctions imposed by the U.N. on North Korea in 2006, the Chong Chon Gang, which was reportedly heading to Pyongyang from Cuba, was detained in the Panama Canal last July for trying to transport the contraband hidden under thousands of tons of sugar.
"Ocean Maritime Management Company, Ltd (OMM), played a key role in arranging the shipment of the concealed cargo of arms and related materiel," the U.N. committee said in an official statement, Reuters reported. "The concealment of the aforementioned items demonstrates intent to evade U.N. sanctions, and is consistent with previous attempts by the DPRK (Democratic People's Republic of Korea) to transfer arms and related materiel through similar tactics in contravention of Security Council prohibitions."
Three North Korean officers of the Chong Chon Gang were released by a Panamanian court Friday, following the release of the ship along with 32 North Korean sailors by Panama in February, Reuters reported.
On July 15, 2013, the Chong Chon Gang was seized by authorities in Panama's Manzanillo International Terminal after they received a tip that it was transporting illegal drugs. When Panamanian troops tried to board the vessel, the crew responded violently and the captain attempted to kill himself, reports said. A search of the ship's cargo holds revealed an assortment of Soviet-era arms, including two anti-aircraft missile batteries, nine air defense missiles in parts, two Mikoyan-Gurevich MiG-21 fighter planes and 15 aircraft engines.
"The investigation also uncovered information indicating that DPRK Embassy officials in Havana were engaged in making arrangements for the shipment," the Security Council committee said of the Chong Chon Gang shipment, adding, "The committee encourages states to continue to exercise enhanced vigilance over DPRK diplomatic personnel."
After the discovery of the weapons onboard the Chong Chon Gang, Cuba went on to claim that it was sending its "obsolete" Soviet-era weapons to be repaired in North Korea, Reuters reported.
The U.N. committee expressed concern as the military-to-military cooperation violated U.N. resolutions, which it said "prohibit the transfer from the DPRK by its nationals or from its territory of advice, services or assistance related to the maintenance or use of prohibited arms and related materiel," adding that "this prohibition covers many activities including repair, diagnosis, monitoring, physical and chemical tests, and any related services for such items."
A U.N. report in March said that North Korea has developed sophisticated ways to bypass U. N.-imposed sanctions, and suspected that DPRK uses its embassies abroad as a front for the illegal trade of weapons, according to Reuters. North Korea is under many sanctions from the U.N., the U.S. and other countries, for repeatedly testing nuclear and ballistic weapons since 2006.
© Copyright IBTimes 2023. All rights reserved.
FOLLOW MORE IBT NEWS ON THE BELOW CHANNELS