UN Drafts New Syria Resolution, Russia Still not Swayed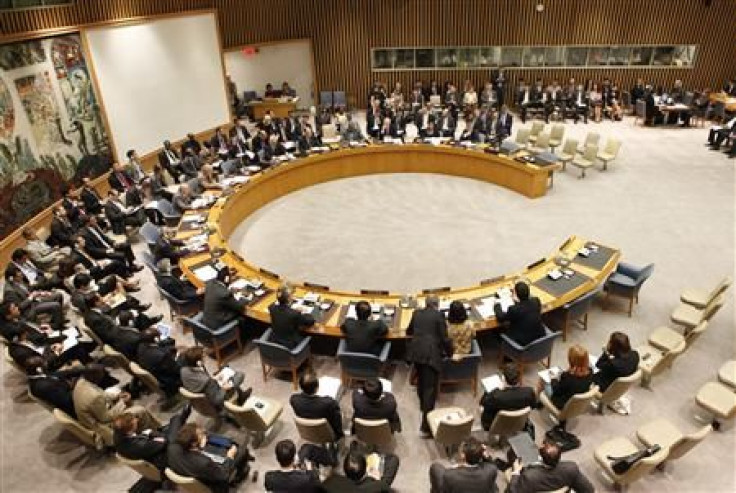 The five permanent members of the U.N. Security Council met on Wednesday to draft a new resolution in hopes of ending nearly a year of violence in Syria.
The meeting took place behind closed doors, but the resolution, which was proposed by the United States, will reportedly demand that the Syrian government allow unhindered humanitarian access into the country and for President Bashar al-Assad to withdraw troops from Syrian cities.
The resolution, which will be presented to the rest of the Security Council once it is complete, also calls on Assad to agree to the Arab League's proposed action plan, which would mean that he would hand power over to his deputies. Morocco, the only Arab state in currently in the Security Council, was also part of Wednesday's discussions.
The draft also condemns the continued widespread, systematic, and gross violations of human rights and fundamental freedoms by the Syrian authorities and demands that the Syrian government immediately put an end to such violations, Reuters reported.
Russian Deputy Foreign Minister Gennady Gatilov said that the new resolution needs a major revision because it is too lopsided toward the opposition, according to The Voice of Russia.
"We would like to warn our American and European partners from wishful thinking. Russia's stance on the Syrian settlement has never been subject to any short-term considerations and hasn't formed under the influence of electoral cycles, unlike that of some of our Western colleagues,'' he said in a statement.
Moscow wants to see an end to the violence in Syria, but hasn't completely turned its back on Assad, its longtime ally.
Russia, along with China, blocked the first Security Council resolution agianst Assad, claiming that it wanted to first sponsor a dialogue between the Syrian government and opposition leaders -- and to avoid a Libyan-style regime change.
Russian leaders have already blasted Western powers for backing Syrian rebels.
United Nations humanitarian chief Valarie Amos visited Syria on Wednesday, where she is expected to lobby Assad to allow the Red Cross and Red Crescent into the most damaged parts of the city of Homs.
Former U.N. Secretary General Kofi Annan is also meeting with an Arab League envoy to discuss a peaceful solution to the ongoing crisis.
© Copyright IBTimes 2023. All rights reserved.