UN Israel Resolution Update: Senate Foreign Relations Committee Chair Bob Corker Accuses United Nations of 'Anti-Israel Bias'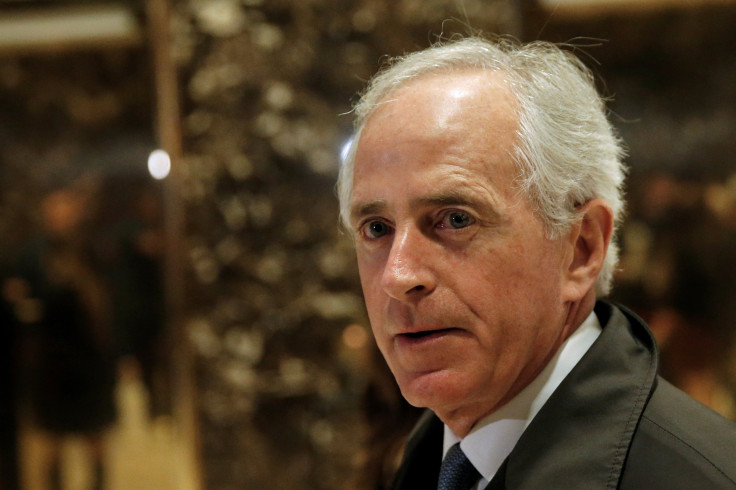 Sen. Bob Corker criticized the United Nations' December resolution condemning Israeli settlements in Palestinian territory as "a flagrant violation under international law." In a tweet late Saturday, the head of the Senate Foreign Relations Committee accused the international organization of "anti-Israel bias."
The GOP senator's comment was a response to a report by the Weekly Standard (TWS) which claimed Corker was "endangering" a bipartisan Senate measure seeking to censure the U.N. over its December Israel resolution. The measure, the report said, also warned the current administration under President Barack Obama against any further "anti-Israel action" in its last few days.
Corker dismissed the report saying: "Fake news from @weeklystandard. Committee has not even met publicly yet and no one has attempted to pass resolution on Senate floor."
"Instead of 'sending a message' with a toothless resolution, we should inflict real pain on U.N. for anti-Israel bias," the senator said in a following tweet.
The report, however, quoted Corker saying the alleged Senate measure was too weak to be effective.
"We have talked to many leaders in the pro-Israel community and they know that resolutions have no impact on anti-Semitism and are superficial ways of addressing the issue," Corker reportedly told TWS. "We are hoping to introduce and pass legislation that will impact the U.N. in a negative way if it continues to pursue anti-Semitic measures."
The U.S., Israel's closest ally, abstained from voting in the December resolution, breaking away from Washington's tradition of using its veto power to protect the country from negative action in international forums. The decision also put a toll on President Obama's already contentious relationship with Israeli Prime Minister Benjamin Netanyahu.
The U.S. House of Representatives also condemned the U.N. resolution and criticized Obama's decision to refrain from voting. House Speaker Paul Ryan said last week he was "stunned" the U.S. would allow the U.N. to condemn Israel.
"Do not be fooled. This U.N. Security Council resolution was not about settlements, and it certainly was not about peace," Ryan reportedly said. "It was about one thing and one thing only: Israel's right to exist as a Jewish Democratic state."
Meanwhile, Israel's U.N. mission announced Friday it will cut $6 million, which it said was allocated "to anti-Israel bodies," out of its over $40 million contribution the U.N.'s regular budget.
"It is unreasonable for Israel to fund bodies that operate against us at the U.N. The U.N. must end the absurd reality in which it supports bodies whose sole intent is to spread incitement and anti-Israel propaganda," Israel's Ambassador to the U.N. Danny Danon reportedly said.
© Copyright IBTimes 2023. All rights reserved.
FOLLOW MORE IBT NEWS ON THE BELOW CHANNELS