Undocumented Immigrants In US Eagerly Await Reprieve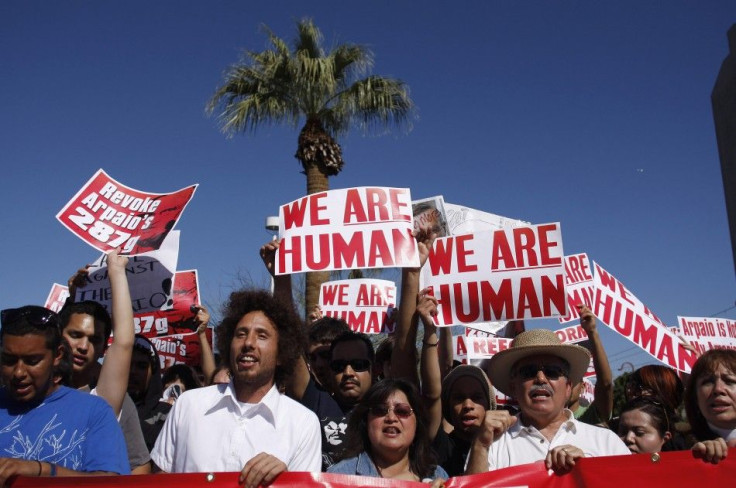 Over a million undocumented immigrants living in fear of deportation could take their first steps towards a reprieve on Wednesday.
U.S. Citizenship and Immigration Services will begin accepting applications for a new Obama administration initiative, first announced in June, that allows many undocumented immigrants who came to the United States as children to temporarily avoid deportation and obtain legal work permits.
The program partially mirrors the DREAM Act, a piece of legislation that would open a path to citizenship for a similar population of immigrants who were illegally brought to the United States as children. Republican opposition stymied that bill, frustrating Democrats and discouraging immigration advocates already angry that President Barack Obama had failed to pursue comprehensive immigration reform while pushing deportations to record yearly levels.
The Deferred Action for Childhood Arrivals program represents the Obama administration's attempt at a temporary solution. Administration officials have stressed that it is not a substitute for Congress overhauling the nation's immigration laws, and unlike the DREAM Act it cannot confer permanent legal status.
More Than 1 Million Undocumented Immigrants Could Qualify
But it still represents an immense opportunity for the more than one million undocumented immigrants who could now qualify for a two-year period of "deferred action," during which they cannot be deported and become eligible to apply for work permits.
Along with a $465 application fee, immigrants must submit documentation proving that they fit a variety of criteria that includes having arrived in the United States before turning 16, living here for at least the past five years and avoiding felony charges or multiple misdemeanors. To be eligible, immigrants must either be currently enrolled in school, able to prove they have graduated or have served in the military.
Because the deferred action window expires after two years, there is a fair amount of uncertainty around the program. Presumptive Republican presidential nominee Mitt Romney has declined to say whether he would repeal the policy if elected, potentially meaning that immigrants who receive a respite now would find themselves in limbo under a Romney administration.
Some advocates are also concerned that immigrants could find themselves penalized by submitting inaccurate applications or, in a worst case scenario, unwittingly alert authorities to offenses that could get them deported -- for example, having re-crossed the border from Mexico after being removed a first time.
"People need to understand that by coming forward they may be inadvertently admitting to conduct they maybe shouldn't be talking about," said Laura Lichter, a Denver-based immigration attorney who is president of the American Immigration Lawyers Association. "There's a risk to anyone and everyone that's potentially applying for this."
DHS Prepares For Deluge Of Applications
But the Department of Homeland Security is nevertheless preparing for a deluge of applications, and immigration advocates have been working feverishly to inform immigrants about the program.
"The demand is overwhelming," said Angelica Salas, executive director for the Coalition for Humane Immigrant Rights of Los Angeles.
Salas said she typically arrives at the office to find people lined up outside, hoping to sit in one of the hourly workshops that her organization has been holding since June. She estimated that they have connected with some 36,000 immigrants, a number that is still a fraction of the more than 100,000 potentially eligible immigrants residing in Los Angeles County.
"At this point, people know it's real," Salas said.
Republicans have denounced the program as an amnesty enacted via an end-run around Congress. Many accuse Obama of using the program try and boost his popularity among Latinos in an election year.
"This is a slap in the face to the 23 million unemployed or underemployed Americans," Rep. Lamar Smith, R-Texas, who chairs the House committee that oversees immigration legislation, said in a press release. "American workers should not have to compete with illegal immigrants for scarce jobs and American taxpayers should not have to pay for President Obama's amnesty agenda."
--
© Copyright IBTimes 2023. All rights reserved.
FOLLOW MORE IBT NEWS ON THE BELOW CHANNELS