Unidentified Drone Observes Historic NATO Drill In Estonia Meant To Scare Russia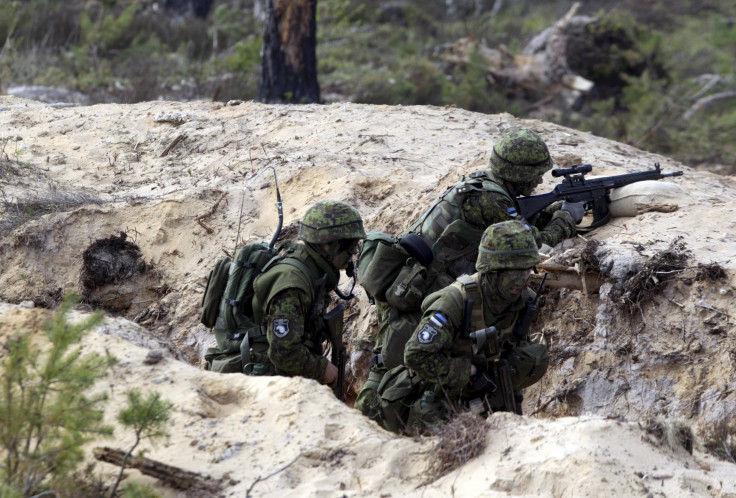 An unidentified drone spied on NATO's largest-ever military exercises in Estonia this week, reported Estonian newspaper Eesti Päevaleht. The drills, scheduled to end on Friday, come amid growing tensions between Russia and NATO over the conflict in eastern Ukraine.
One NATO reservist said his unit was monitored by the unmanned aerial vehicle at least three times during the drills, reported Sputnik International, a Russian news website. "During one of its arrivals, the drone hovered over a camp, and everyone was on heightened alert. Next time, the drone flew over a completely random area in the forest, where one of our units was stationed at the time. But it was not just a casual interest," the reservist said.
Vallo Toomet, spokesman for the Estonian Defense Forces' General Staff, said camouflaging and other passive countermeasures were used against the drone. He would not say whether the drone was a reconnaissance plane from a particular country.
The Hedgehog-2015 drills involve 13,000 troops from eight NATO nations, including the United States, United Kingdom, Germany and Poland. Among the equipment being tested are anti-aircraft systems, A10 "Warthog" ground-attack planes and Abrams battle tanks. The land exercise is seen as a sign of support for the Baltic states and a cautionary message to Russia.
Drones are legal under Estonian law, expect in areas adjacent to airports.
The former Soviet republics of Estonia, Latvia and Lithuania, all NATO members, urged the alliance Thursday to send thousands of ground troops to the region, but Moscow, their former master, said the request was unnecessary. Vladimir Chizhov, Russia's ambassador to the European Union, said security concerns have been exaggerated in the former Soviet nations. "Nobody is threatening the Baltics — at least, nobody that I know of," Chizhov told reporters in Brussels, according to the Washington Times.
The U.S. and NATO have accused Russian President Vladimir Putin of sending weapons and troops into eastern Ukraine to support pro-Moscow separatists. The Ukraine conflict has resulted in more than 6,000 deaths. Moscow denies any involvement in the conflict.
© Copyright IBTimes 2023. All rights reserved.