Union Petition At Federal Trade Commission (FTC) Decries "Abusive And Predatory" Practices Of Fast Food Franchisers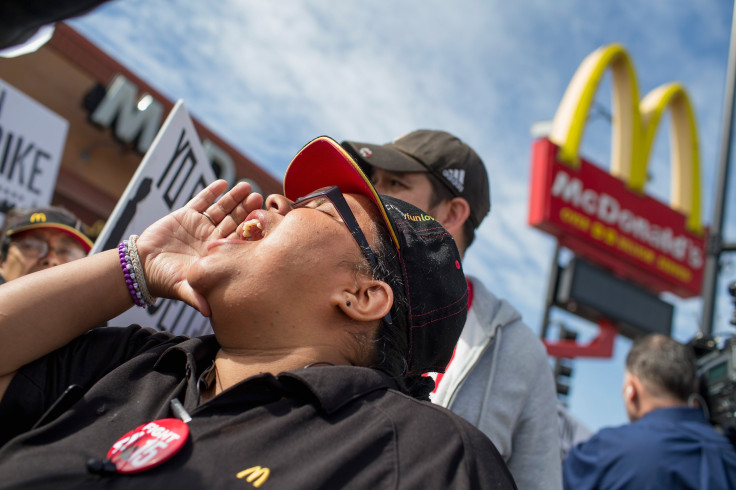 The fast-food industry has been rocked with a wave of strikes, protests and lawsuits recently. Now it could face enhanced scrutiny at the Federal Trade Commission (FTC), if organized labor gets its way. On Monday, the Service Employees International Union (SEIU) petitioned the agency to launch an investigation into what it calls the "abusive and predatory" practices of franchisers toward franchisees.
The petition calls for the FTC to crack down on five allegedly "endemic" practices within the franchising model, an arrangement that is typical of the fast-food sector. The complaint accuses franchisers of misleading prospective franchisees about the financial performance of other franchisees, tying contract renewals to unreasonable capital-spending demands, retaliating against store owners who join franchise associations, unjustly terminating agreements and denying franchisees' requests to sell off or transfer their businesses.
The International Franchise Association, the top lobby for franchisers, says the petition calls for the "FTC to develop a solution for a problem that doesn't exist."
Since 2012, the SEIU has bankrolled high-profile protests demanding $15 hourly wages and union representation at McDonald's and other fast-food companies. Low-wage workers have been the focus of organizing efforts. But more recently, the union has drawn attention to what it portrays as the plight of franchisees. Last month, the SEIU released a poll highlighting the frustrations of franchise operators, and it has backed legislation in California that would rein in the ability of franchisers to terminate contracts with franchisees. In a Monday press call, Scott Courtney, assistant to the president of the SEIU, said the union's goal of boosting wages in fast food is not possible "without reforming" the franchise model as a whole.
Franchisers extract sizable fees from franchisees for the right to use the company name. Empowering franchisees could, in theory, translate into more autonomy, more bargaining power and potentially more cash for store owners who could then use some of that extra dough on worker pay.
A potential FTC investigation could also cast further doubt on the industry's primary means of deflecting labor demands. So far, McDonald's and others have evaded calls to hike wages and improve working conditions by arguing they hold little sway over the business decisions of independent franchisees. (When the company announced last month it was boosting workers' wages, the move applied only to stores directly owned by the company, or about 10 percent of McDonald's sites nationwide.) However, McDonald's contention has come under fire at the National Labor Relations Board, where the company is fighting alleged labor violations as a "joint employer" with its franchisees.
© Copyright IBTimes 2023. All rights reserved.
FOLLOW MORE IBT NEWS ON THE BELOW CHANNELS