McDonald's Considered "Joint Employer" As Landmark National Labor Relations Board Hearings Begin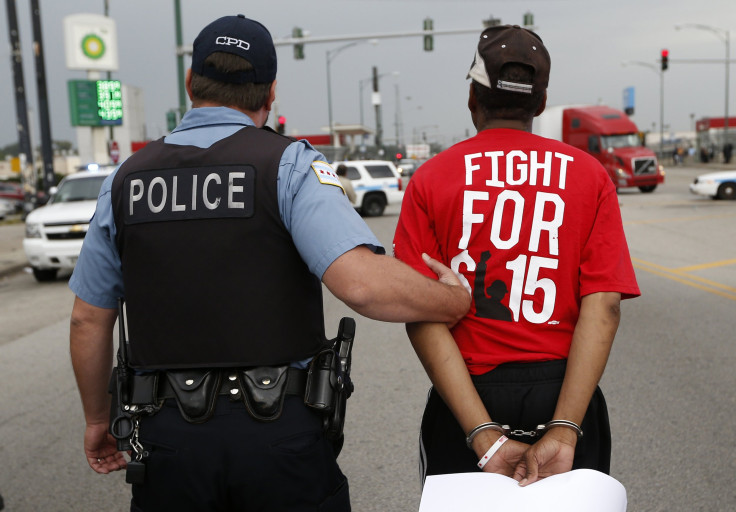 In the first round of landmark National Labor Relations Board hearings that kick off in New York on Monday, McDonald's will defend itself against charges that it retaliated against employees who spoke out about working conditions and took part in demonstrations calling for higher wages. The complaints are notable because, for the first time the NLRB is treating McDonald's as a "joint employer" along with its franchisees.
As the hearings unfold over the next several months, the future of labor relations in a pillar of the modern-day service economy could be at stake.
Labor groups back the "joint employer" designation because it's a step toward making corporate headquarters more accountable for working conditions at individual stores, and possibly bringing McDonald's to the bargaining table. Since demonstrations funded by the Service Employees International Union (SEIU) kicked off in 2012, McDonald's has argued it exerts little control over its franchisees and therefore cannot unilaterally respond to protester demands. But if the company is on the hook for labor violations, it might be more willing to consider some form of national-level bargaining, observers say. (The possibility of mass unionization remains highly unlikely at this stage.)
Employer groups like the International Franchise Association, which represents corporations like McDonald's and Subway, deeply oppose the "joint employer" standard because of the enhanced liability it threatens to create. The IFA and allies like the U.S. Chamber of Commerce have also argued the NLRB proceeds from a politically motivated misunderstanding of the franchising model.
"The focus of these hearings is clearly off base," the IFA said in a statement. "By contract and law, the franchisee -- not the franchisor -- is responsible for employment decisions, such as setting wages, hours and processing payroll."
But Cathy Ruckelshaus, general counsel and program director of the National Employment Law Project, expects the NLRB's standard to hold. McDonald's headquarters sets broad standards that range from speed limits in drive-thrus and bag-folding techniques to patterns in workers' wages and benefits, she said.
"McDonald's is really unique in the franchising model in the extent of control it exercises," Ruckelshaus said.
Setting aside the debate over unionization, Ruckelshaus said that McDonald's employees stand to gain from the case in the short term. If McDonald's is held responsible as a "joint employer," it would incentivize the company to address potential labor issues at its franchisees before the complaints rise to the level of legal claims.
© Copyright IBTimes 2023. All rights reserved.