United Airlines Pilots Get A Raise As Carriers Reel In Soaring Profits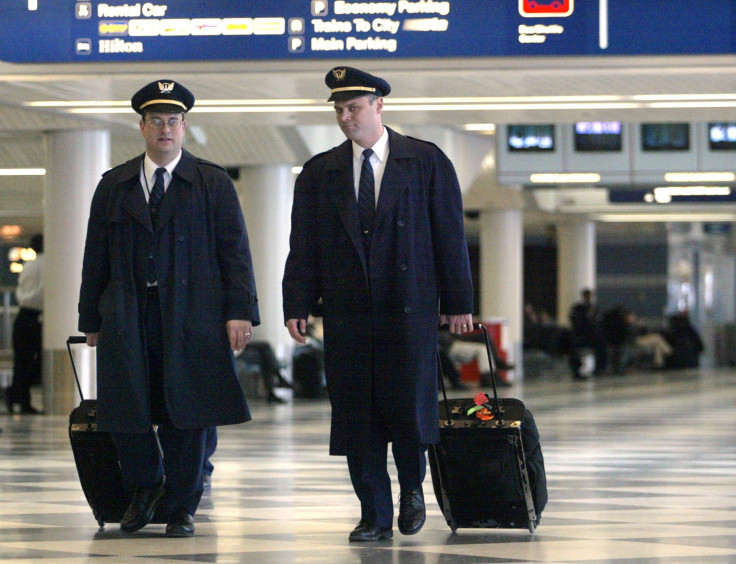 One of the nation's largest airlines is giving its pilots a healthy raise. On Friday, United Airlines pilots approved an extension to their labor contract, boosting pay rates and giving themselves a larger split of the company's profit-sharing system.
"Traffic is increasing, the economy is improving, and the cherry on top is low fuel costs," Kit Darby, an Atlanta-based aviation consultant, said. "Labor wants to get their share of the pie."
The deal, which covers more than 10,000 pilots at United Continental Holdings Inc., reflects the good times felt across the U.S. airline industry, flush with profits and buoyed by low fuel costs. Under the contract at United, pilots will reportedly see a 13 percent pay raise in 2016, followed by 3 percent and 2 percent pay hikes over the following respective two years. As part of the industry's practice of so-called pattern bargaining, other major airlines are expected to closely follow the deal during their own negotiations with pilots' unions.
"Any pilot gains, so to speak, will become the floor for subsequent negotiations," R.W. Mann, an industry expert and consultant, said. "The terms of this agreement will be used to advise and inform negotiations for dealing with other open agreements, which include Delta, Southwest and ultimately American."
United Airlines | WanderBat
On Thursday, United reported net profits of $823 million for the last quarter of 2015, up from $28 million during the same period in 2014. On the same day, Southwest Airlines posted quarterly earnings of $536 million, up from $190 million during the year-earlier period. Delta's most recent earnings report failed to meet expectations on Wall Street, but the company still reeled in profits of $980 million in the fourth quarter.
Benchmark crude oil prices are now hovering around $30 a barrel, down by more than 60 percent since June 2014. That's a boon for airliners, which benefit from cheaper fuel costs. But it's not the only reason the major carriers are doing well. As traffic grows steadily and the economy rebounds from the recession, companies are continuing to invest in new aircraft, experts said.
The pilots' contract does not immediately translate into across-the-board labor peace at United. The company also has to negotiate contracts with 21,000 flight attendants and 24,000 passenger service and fleet service workers. Still, Kit Darby said the pilots' deal bodes well for other unionized workers at the company — and at the other major carriers.
"A rising tide lifts all boats," he said. "Not all boats are the same size," but a strong contract for pilots improves "expectations of other groups."
Unlike their counterparts in Europe, American passengers typically do not have to worry about the possibility of a pilot strike at any of the major airlines. The Railway Labor Act allows strikes to take place only after a mandatory mediation period and authorizes the president to issue emergency back-to-work orders. In 1997, thousands of American Airlines pilots briefly walked off their jobs, but President Clinton quickly intervened, putting an end to the strike.
© Copyright IBTimes 2023. All rights reserved.