United Airlines Rabbit Dies On Flight After Celebrity Bought World's Largest Bunny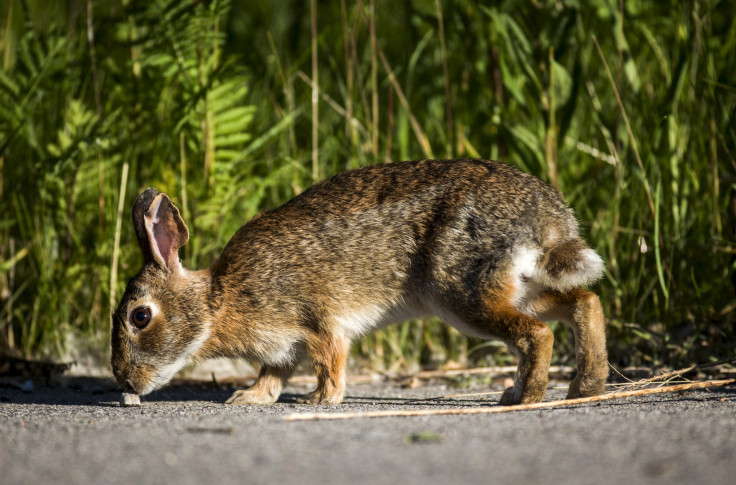 What could have been the biggest rabbit in the world died on a United Airlines flight. Simon, a 4-foot 4-inch rabbit, died in the cargo section of a United Airlines flight bound from the U.K. to the U.S., the Telegraph reported Wednesday. The day the bunny died was not immediately known.
The 10-month-old bunny was in route to his new home, a celebrity owner who was not named. The rabbit was bred by Annette Edwards, who said the rabbit was in good health when he was sent off. He arrived at the O'Hare airport dead, according to reports.
"Simon had a vet's check-up three hours before the flight and was fit as a fiddle," Edwards was quoted as saying by The Sun. "Something very strange has happened and I want to know what," she said. Edwards maintained that she had sent rabbits "all around the world" and had not experienced anything like this before.
READ: Is United's Brand Damaged Forever? Airline Must Prove Its Worth After Passenger Dragging Video
Edwards, a former glamor model, also raises rabbits in her spare time. Simon was a Continental Giant rabbit, one of the largest and most desired breeds in the world. The rabbits can cost between $250 and $500, although hopeful owners might have to wait up to two years for their pet, according to a Continental Giant website.
United Airlines extended their apologies in a statement in the wake of the rabbit's death.
"We have been in contact with our customer and have offered assistance. We are reviewing this matter," a United Airlines spokesperson said, via the Telegraph.
Before Simon, the rabbit's father, Darius, held a Guinness World Record for the world's biggest rabbit. Prior to Darius, his mother, Alice, held the world record.
The major airline has come under fire in recent weeks for passenger mistreatment following an incident where a flier was violently pulled from his seat after refusing to leave.
© Copyright IBTimes 2023. All rights reserved.