University Of Michigan Investigates Racial Slurs Written On Black Students' Dorms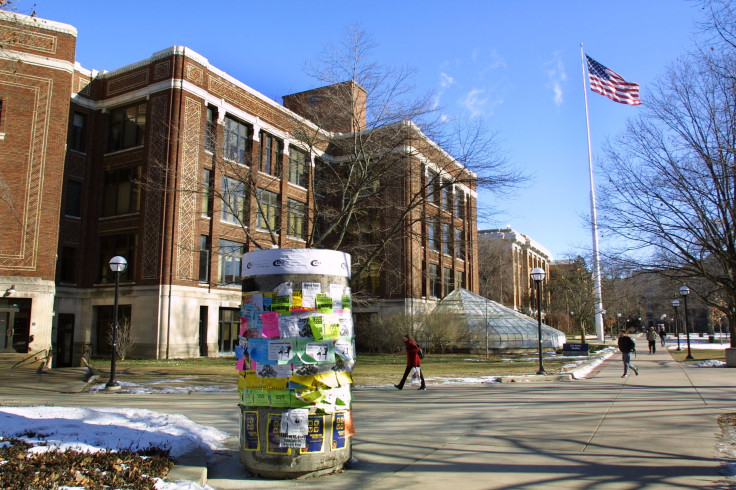 Three African American students' dorm room doors in the Michigan Community Scholars Program (MSCP), located in the West Quad Residence Hall at the University of Michigan, were vandalized with a racial epithet Saturday, according to campus police. The N-word was written in black ink and appeared on the name tags that identified the students' rooms.
The black students were targeted in the hate crime after someone wrote a racial slur under their names, the university's Black Student Union said. University President Mark Schlissel said in a tweet Sunday said an investigation was underway, and University police are expected to increase foot patrols at the residence hall because of the incident, ABC-affiliate WXYZ reported.
"Racism has no place @UMich. @UMichDPSS is investigating. I urge @UMichStudents to stand strong, support one another & report," Schlissel wrote.
The Black Student Union urged anyone with information regarding the incident to come forward, the union said in a statement Sunday.
"This is not only a crime of vandalism, but also a hate crime carried out by those with access to our campus and residence halls, presumably underclassmen students," the organization wrote. "We expect an appropriate response from the university, including an investigation and consequences for those involved in the vandalism."
The University of Michigan rests in the town of Ann Arbor, which is 72 percent white and 7 percent black, according to demographics database Area Vibes. The racially charged incident came just after someone painted racist graffiti on a mural in downtown Ann Arbor Sunday. The graffiti, along with the N-word, encouraged the release of Dylann Roof, a white supremacist who killed nine black South Carolina church-goers in 2015.
One of the students whose door was defaced noticed the racial slur as he returned from lunch at the nearby dining hall on campus. He later notified the RA who contacted the school's Division of Public Safety and Security.
"When I got up this morning, I was ready to focus and get ready to do my studies and my homework. I planned on dedicating this whole day to prepare for the week and get homework done, like a regular Sunday," sophomore Travon Stearns told the Michigan Daily. "But when I saw that, it kind of messed me up a little bit. From there, I had to take other steps to really try to get to the bottom of this and report it."
MCSP is considered one of the most inclusive spaces in the school, Stearns said. The program is a learning community in West Quad focused on social justice, intercultural dialogue, and civic engagement.
Stearns said the incident was the first case of blatant racism he experienced on campus this semester. However, he hoped the school would take it seriously. Most students are concerned with campus safety, including Stearns, who worried his ethnicity placed a target on his back.
"Maybe people do those things as a joke but they don't realize what psychologically impact that can have on a person," he told Michigan Daily. "Especially since I am at the University to study and get an education. But then I have to worry about the feeling of oppression and not being accepted. I have to watch my back at all times. And that just puts extra pressure on me on top of regular college life."
© Copyright IBTimes 2022. All rights reserved.
FOLLOW MORE IBT NEWS ON THE BELOW CHANNELS