Unrest spreads to Europe: Serbs protest government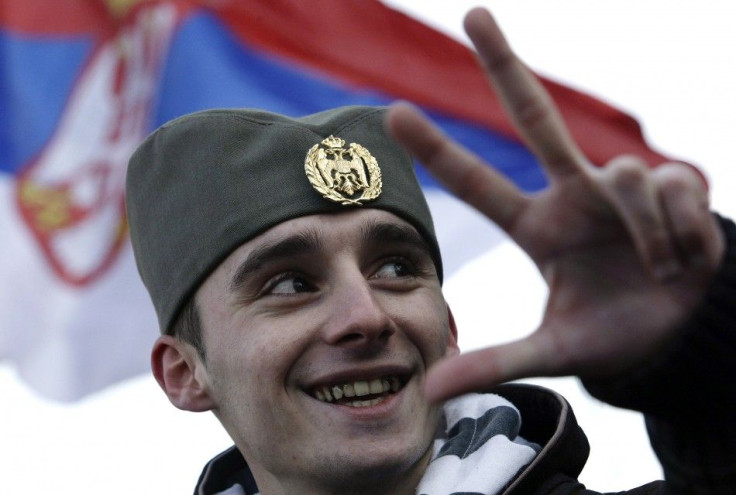 The civil unrest roiling the Middle East may have spilled over into Europe as tens of thousands of Serbian nationalists staged a massive anti-government rally in the capital, Belgrade.
The demonstration, called by the opposition Serbian Progressive Party (SNS), demanded early elections, higher wages and a crackdown on official corruption.
SNS chief Tomislav Nikolic presented the government with a two- month ultimatum to call polls or he would wage a campaign of civil disobedience. (However, the next general election is not slated until 2012).
Serbia is sinking under the weight of economic problems as the country prepares to converge with the European Union.
Demonstrating in front of the parliament building as riot police stood watch, some protesters carried placards which said "we are hungry."
The economy expanded by only 1.5 percent last year, with a 3 percent growth expected in 2011. Serbia's inflation rate (10.3 percent in 2010) is among the highest in Europe, while the average citizen earns only about 390 euros ($535) per month.
In January, the government raised prices on heating, public transport, milk, sugar, meat and flour.
Various state workers have gone on strike (or have threatened to do so), in a bid for higher salaries.
Thus far, the government has rejected pleas by workers for increased wages.
It is clear that the opposition will try to use social discontent, said Bozidar Djelic, the deputy prime minister. The only way they can change the government is to win a majority in the parliament and elections are in 2012.
The opposition SNS leader has made obvious references to the turmoil in Egypt.
Elsewhere in the world people are telling governments they should listen to the people," Nikolic told the gathering. I know you are disenchanted and bitter over this dishonest government which is tormenting you. Let us torment government instead.
Serbia's current regime – in power since 2008 -- is comprised of a fragile ten-party coalition headed by Prime Minister Mirko Cvetkovic and President Boris Tadic. The coalition is united primarily by its support for EU membership, but the pace towards integration has been frustratingly slow.
I was not a Nikolic voter in the past but now I am so disillusioned because of unfulfilled promises, poverty, corruption and hardship, metal worker Dragomir Djuric, told Reuters.
The SNS is viewed as the most potent challenger to the Serbian Democratic Party, which dominates the ruling coalition.
This government was promising us milk and honey in 2008 and what do we have now? More hardship, and a dishonest and arrogant government which does not care about its own people, Zdravka Stanojlovic, a waitress, complained to Reuters.
© Copyright IBTimes 2023. All rights reserved.