Uppleva Vs. Apple iTV: IKEA Interprets Steve Jobs' Vision of An Integrated Television [PHOTOS & VIDEO]
As a part of a new effort to expand into the lucrative business of consumer electronics, Swedish home furnishings retailer IKEA unveiled its interpetation of an integrated television on Monday, called the UPPLEVA, which means to experience. Even though Apple's late founder Steve Jobs had envisioned such a TV for his own company, it looks like IKEA will be the first to ship such an experience.
At IKEA, we're always traveling around the world, visiting people in their homes, IKEA explained in a video. No matter where we go, one problem keeps coming back: How to fit the TV in the living room; or rather, all those things that come with a TV, like digital boxes, Blu-ray players, surround sound, remote controls, and the cables. Cables, cables, cables. So we started thinking: How could we fix this?
This is not a TV, it's not a piece of furniture either. It's all-in-one, and we call it 'UPPLEVA.'
The UPPLEVA is a full HD television with an LED display, which can play most types of videos, including DiVX HD movies, Blu-ray discs and DVDs. The Wi-Fi ready TV also comes with Smart TV options, like the ability to search for available programs via various platforms, including OnDemand, Netflix and possibly even Amazon.
The TV also has music options, too. The 2.1 surround sound system includes a CD player -- for those that still believe in that ancient technology -- as well as inputs for MP3 players and iPods. If you have none of those options, the UPPLEVA can still play FM radio. For fans of bass, IKEA throws in a wireless subwoofer that can be easily placed wherever you want it.
If the UPPLEVA doesn't have everything you want, the TV set also comes equipped with two USB slots and four HDMI ports, which can allow you to plug in your other electronic devices and video game consoles, including the Xbox 360 and Playstation 3.
It does everything you could ask for in a TV solution, but in a very different way, IKEA says in its UPPLEVA intro video. Cables? Gone. They all disappear in the back, never to be seen again. And you can also get it with extra storage to get room for other electronics.
And all this stuff is so good that we gave it a 5-year guarantee included in the price.
Of course, being Wi-Fi ready and all, the UPPLEVA gives TV watchers full control over the Internet, so you can watch YouTube or look through old photos on Flickr.
As Steve Jobs had imagined for his own television, the Uppleva's various functions are all controlled by one integrated remote. The very top of the remote features a general power button, and right below that are options to either watch TV or listen to music. Below that is a similar menu and wheel featured on most remotes, which can change the TV's settings, but IKEA also added one designated button for the entire Smart TV experience. There are also controls for channels and volume, video playback, and four buttons along the bottom to change the Uppleva's input.
The UPPLEVA TV will come with different-colored frames, including black, tan and white, and will come in three different sizes, although IKEA did not specify in the video.
Yet, likely the best part of IKEA's integrated TV solution is not within the TV itself, but rather how the TV can fit comfortably into any room in your house. The UPPLEVA is designed to also be a piece of furniture, but IKEA has designed plenty of ways furniture solutions to house the UPPLEVA, including surrounding it with cabinets and platforms made of different materials and colors.
[It's] fully customizable, from small, to everything, to different, IKEA says. Your living room officially just got its freedom back.
IKEA plans to introduce the UPPLEVA television in Stockholm, Paris, Berlin, Milan and Gdansk in June 2012, and will introduce the TV to more stores in Sweden, France, Spain, Poland, Italy, Denmark, Portugal and Norway by the fall. Unfortunately, owners in the U.S. will have to wait until spring 2013 in all likelihood to get their hands on this all-in-one TV/sound/furniture solution. IKEA did not mention a price for its first integrated television.
The UPPLEVA is beautiful, simple and sensible, but how does it compare to Steve Jobs' vision for an integrated TV, or the iTV? Here's what Jobs said when describing his dream to Walter Isaacson, his biographer:
I'd like to create an integrated television set that is completely easy to use, Jobs said. It would be seamlessly synched with all of your devices and with iCloud. It will have the simplest user interface you could imagine. I finally cracked it.
Jobs' goal was to reduce the amount of clutter in the TV watching experience, namely in the number of remotes needed to control the cable channels, as well as peripherals like DVD players and video game systems. With Apple's iCloud platform, the iTV could connect Apple devices in the same way the Apple TV does, letting users stream their photos, movies and music instantly, but a standalone TV set could do so much more.
With the recently-introduced Bluetooth 4.0 technology, which connects wireless devices almost instantly, Apple could potentially make the iTV into a standalone gaming port by leveraging the gyroscopes and accelerometers within iPhone, iPad and iPod Touch devices. For instance, if you are playing a driving game and you hold your phone like you would a wheel, the car on the screen would mirror your movements.
Apple analysts believe the company will also integrate Siri, the company's AI personal assistant exclusive to the iPhone 4S, directly into the iTV:
We believe Apple could use Siri, its voice recognition, personal assistant technology to bolster its TV offering and simplify the chore of inputting information like show titles, or actor names, into a TV (typically with a remote), said Gene Munster, an analyst at Piper Jaffray.
The iTV will also reportedly feature a quad-core A6 processor and come in three sizes.
Since Jobs' death in October, his statements about the iTV have spurred development, but mostly within other companies. Since Isaacson published Jobs' comments on his revolutionary idea, Google, Samsung, LG and others have all tried their hands at creating Smart TVs, which were all the rage at CES 2012 in Las Vegas. Now IKEA's getting into the game, but the Swedish company's interpretation of Jobs' vision may be the closest to what he actually wanted for Apple.
Even though some analysts believe the iTV will be released by the end of 2012, fans should actually expect the TV to be introduced in mid-to-late 2013. We've gotten no word that the TV is actually in development, so 2013 could turn out to be the year of the Smart TV. Whether the UPPLEVA, the iTV, or an entirely different product will be crowned the smartest, we'll have to wait and see. But now that IKEA has shown its hand, it's up to Apple to scope out its competition and beat them.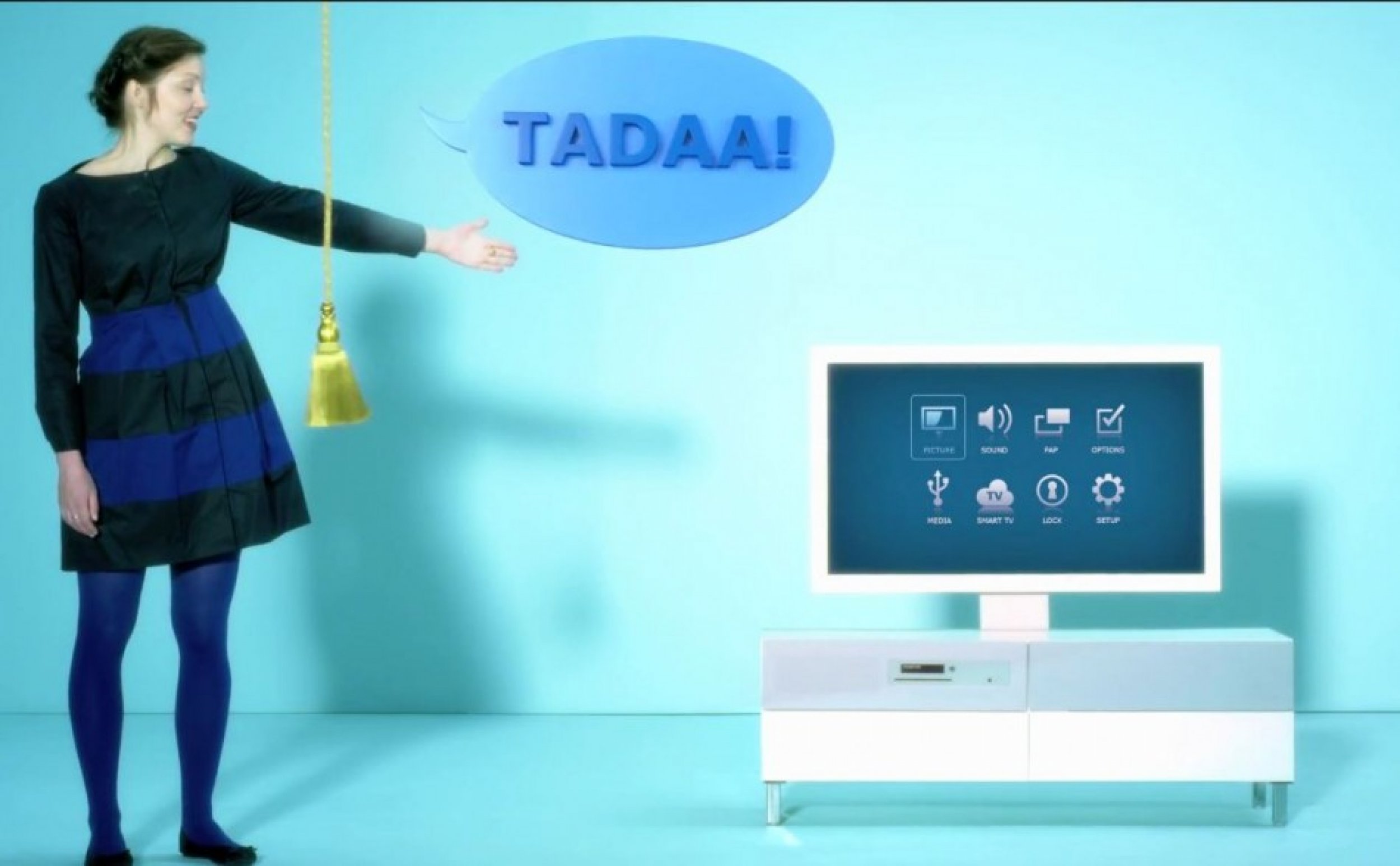 © Copyright IBTimes 2023. All rights reserved.