Urban Meyer's Wife Shelley Rips Colin Kaepernick On Twitter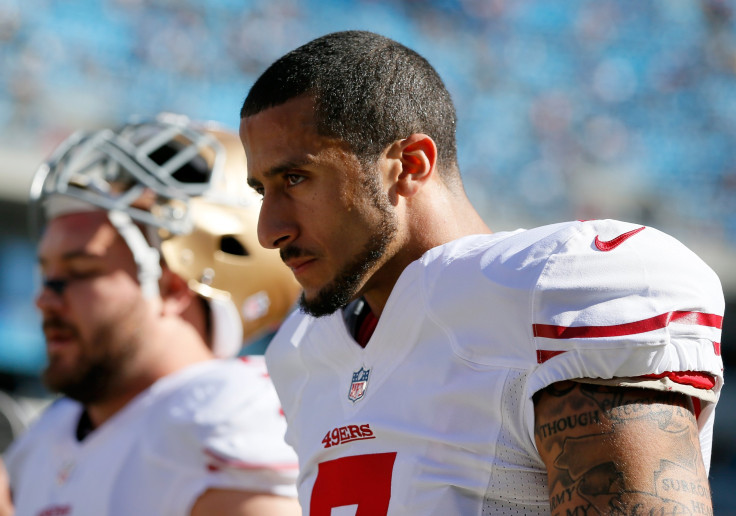 Ohio State football coach Urban Meyers' wife Shelley Meyer slammed former San Francisco 49ers quarterback Colin Kaepernick for filing a grievance against the NFL.
After news broke that the unemployed quarterback filed a grievance against the NFL that accused league owners of collusion, Meyer took to Twitter Sunday night and wrote: "What-ever. He made his choices."
Meyer replied to one Twitter user saying that she would take her husband's former Florida Gators recruit Tim Tebow over Kaepernick. Tebow, a one-time quarterback, turned to baseball after having trouble sticking to an NFL team and now plays at outfield for the New York Mets minor league-affiliate St. Lucie Mets in Florida.
Kaepernick drew national attention when he first took a knee in a 2016 preseason game during the national anthem in protest of racial inequality and the mistreatment of people of color by law enforcement. He seemingly trail-blazed a widespread movement of current NFL players who perform in-game protests and hasn't been signed by a team since he opted into free agency last season.
His protests garnered attention from President Donald Trump, who suggested last month that owners should fire players who protested during the ceremony.
The 29-year-old filed a grievance Sunday against NFL owners, alleging collusion to keep him out of the league as punishment for his protests. Kaepernick's attorney Mark Geragos sent a copy of the complaint Sunday to the NFL and its 32 teams.
"Colin Kaepernick's goal has always been, and remains, to simply be treated fairly by the league he performed at the highest level for and to return to the football playing field," the statement read.
Meyers' remarks raised eyebrows on social media and prompted a response Monday from the athlete's adoptive mother, Teresa Kaepernick.
"Her flip remark speaks volumes on where she stands on civil rights issues," she wrote on Twitter.
© Copyright IBTimes 2022. All rights reserved.
FOLLOW MORE IBT NEWS ON THE BELOW CHANNELS