Colin Kaepernick vs NFL: Former Quarterback Accuses Teams Of Colluding Against Him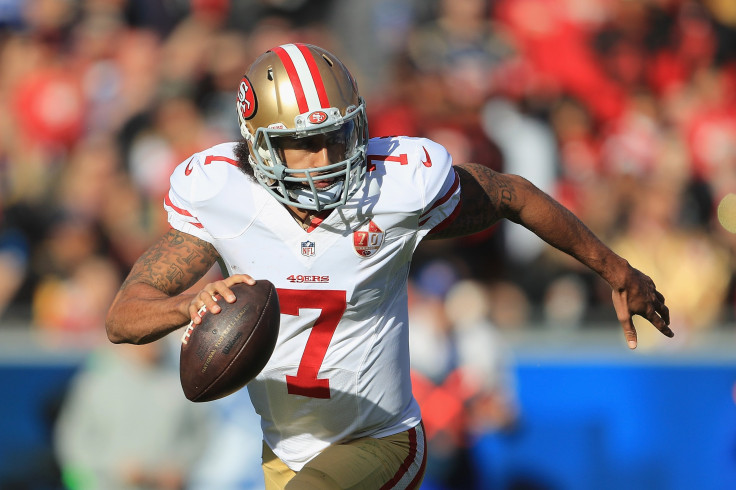 Free-agent quarterback Colin Kaepernick filed a grievance against the National Football League (NFL) on Sunday claiming team owners were colluding to keep him from being signed.
The grievance was filed just days before the fall meetings of all 32 NFL team owners in New York, and was preceded by calls, including from President Donald Trump, for NFL owners to oust players who knelt during the national anthem before NFL games.
The former San Francisco 49ers quarterback made headlines last season when he became the first NFL player to begin kneeling during the anthem to protest systemic racism and police brutality, triggering a wave of sideline protests by other players.
Kaepernick opted out of his contract with the San Francisco 49ers at the end of last season, and was hoping to be picked up by another NFL team.
However, six weeks into the regular season this year, he is yet to receive an offer from any team despite having a strong playing history, reports said.
The grievance was filed under the league's Collective Bargaining Agreement — an agreement between the league and the players' union prohibiting teams from conspiring to make decisions regarding signing a player, according to a report.
Instead of filing the grievance through the NFL Players Association, which is primarily in charge of preparing and presenting Kaepernick's grievance, he has hired attorney Mark Geragos, who has represented several high-profile clients such as Michael Jackson, former NASCAR driver Jeremy Mayfield and musician Chris Brown in the past, ABC News reported.
The grievance said that during Kaepernick's free agency period, "the purportedly 'free market' — whose natural function should have resulted in a bidding war," did not take up any steps regarding Kaepernick's prospective employment.
Many NFL head coaches and general managers, who had said they would sign Kaepernick had reversed their decisions; some teams said they were not interested in him and refused to provide an explanation too, the grievance said.
"NFL teams who ran offensive systems favorable to Mr. Kaepernick's style of play instead employed retired quarterbacks or quarterbacks who had not played in a regular season game in years, and signed them to significant contracts while prohibiting Mr. Kaepernick from even trying out or interviewing for those jobs," it said.
Meanwhile, the NFL Players Association said in a statement that it had been in touch with Kaepernick for the past year regarding his prospective employment options, but learnt about the grievance filing Sunday through media reports, ABC News reported.
"Our union has a duty to assist Mr. Kaepernick as we do all players and we will support him," the statement said. It also mentioned about a call being scheduled by the union with Kaepernick's advisors early this week.
Here is a brief timeline of the NFL national anthem controversy started by Kaepernick last year.
Aug. 26, 2016: 49ers defended Kaepernick after he failed to stand for the national anthem.
Aug. 28, 2016: Kaepernick said he would continue to sit during national anthem as a form of protest against "oppression of black people and people of color."
Sept. 21, 2017: Kaepernick said he received death threats.
Nov. 24, 2016: Kaepernick said he did not think the ongoing national anthem protests were hurting NFL ratings.
Dec. 4, 2016: Kaepernick elected to become a free agent after the season, however the decision did not rule out him being the starting quarterback for the San Francisco 49ers in 2017, according to NFL Media.
Sept. 22, 2017: President Donald Trump criticized some in the NFL during a rally in Alabama saying team owners should fire players for taking a knee during the national anthem.
© Copyright IBTimes 2023. All rights reserved.