Uruguay's President José Mujica Backtracks After Calling Mexico A 'Failed State'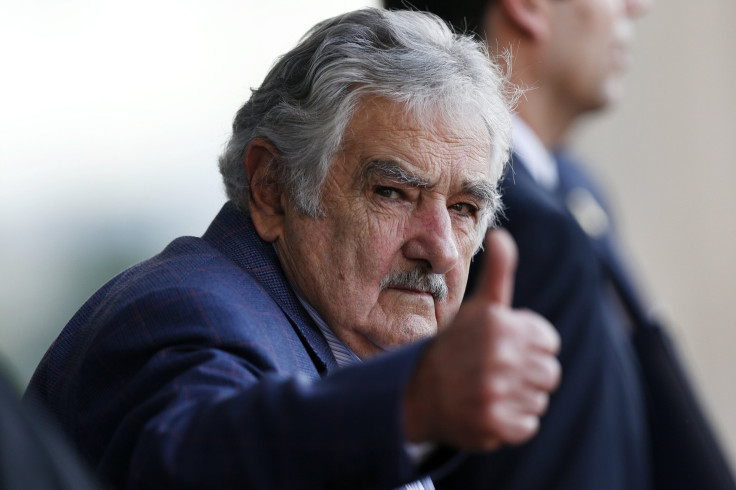 Uruguay's president, José Mujica, is backpedaling after calling Mexico a "failed state," a comment that ruffled diplomatic feathers and caused Mexico to summon Uruguay's ambassador on Sunday. Mujica issued a statement shortly after the dustup, affirming support for Mexico and confidence in its institutions.
The international spat followed a controversial interview with Mujica published in Foreign Affairs magazine's Latin America edition Friday. Asked about the turmoil facing Mexico in the aftermath of the kidnapping and apparent murder of 43 students in September, Mujica replied, "It gives one a feeling, viewed from a distance, that this is a kind of failed state, that the public powers have totally lost control; they've decayed."
Mexico's Foreign Ministry protested the president's comments on Sunday, expressing "surprise and categorical rejection" of his words and announcing that it had summoned Uruguay's ambassador in Mexico over the issue.
That resulted in a statement issued on the Uruguayan presidency's website on Monday, in which Mujica said news of drug trafficking and violence in Mexico, Honduras and Guatemala present a "lesson of pain that demonstrates well our own future dangers."
"These countries are not, nor will be, innocuous or failed states because they have historical pre-Colombian foundations and political capital in their parties and democratic decisions, which are above their fortunes today," Mujica continued. "We cannot be less than in solidarity with the Mexican people and its political system, including its government."
This isn't the first international gaffe for Uruguay's president. Last year, Argentina issued a formal complaint against Uruguay after Mujica unknowingly spoke into a live microphone at a press conference, saying, "That old hag's worse than the cross-eyed one" in reference to Argentina's President Cristina Fernandez de Kirchner and her late husband and predecessor, Nestor Kirchner.
Meanwhile, mass protests have continued to roil Mexico over the case of 43 students who went missing nearly two months ago. The students are thought to have been killed as a result of collusion between local gangs and police, and the incident has spurred nationwide anger over impunity, violence and the security policies of President Enrique Peña Nieto.
© Copyright IBTimes 2023. All rights reserved.