US Airstrikes Destroy ISIS Targets In Sinjar As Yazidis Flee To Syria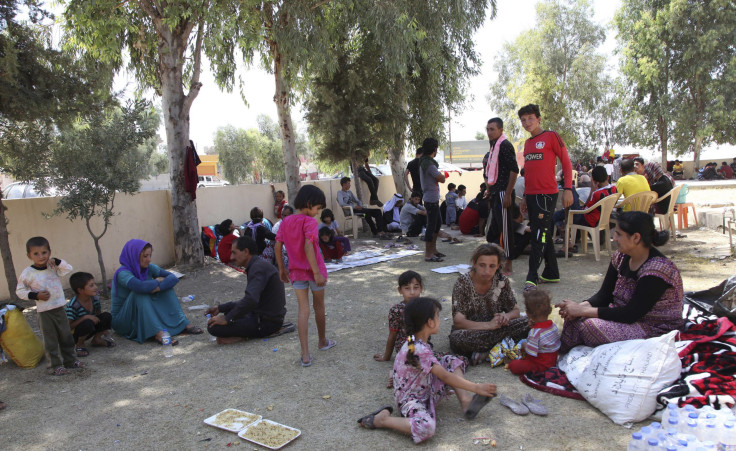 Faced with threats of genocide from Islamic State militants, thousands of Yazidis in Iraq crossed the border into Syria where they're being protected by Kurds in the northeast portion of the country, Kurdish officials told the Associated Press Saturday. Meanwhile, Yazidis cornered by the militants on Mount Sinjar were aided by U.S. airstrikes on armored personnel carriers and an armored truck.
Kurdish officials Ekrem Hasso and Juan Mohammad as well as Rami Abdurrahman from the Syrian Observatory for Human Rights said thousands of Yazidis, members of a religion that combines elements of Islam and an ancient Persian religion, fled Iraq for Kurdish-controlled areas in Syria. Kurdish fighters opened a safe passage for the refugees.
Thousands more Yazidis are stranded on Mount Sinjar in northern Iraq where they're surrounded by Islamic State fighters threatening to kill them. The displaced Yazidis are receiving aid from the United States in the form of airdrops.
Also, hundreds of Yazidi women have been captured by fighters with the Islamic State, an Iraqi official told the AP.
A spokesman for the local administration in Qamishli, a Syrian city dominated by Kurds, said 7,000 people are in a refugee camps there. He said he expects 20,000 more Yazidis to arrive at the camp.
"We are doing all we can to bring them to Rojava," he told the AP, referring to the name Kurds use for northeastern Syria, which is predominantly Kurdish. "People are dying on the way."
He said the Yazidis who sought refuge at the camp are coming "in miserable conditions. They are barefoot, tired and left everything behind."
"If we don't help those people they will be subjected to genocide," he said, speaking about the stranded Yazidis on Mount Sinjar.
Airstrikes were conducted Saturday to take out armored personnel carriers and other targets near Sinjar. The first was at 11:20 a.m. EDT by fighter jets and drones, U.S. Central Command told Agence France-Presse. In that strike, one of the carriers was destroyed. After monitoring the second carrier, planes destroyed two more carriers and an armored truck 20 minutes after the first strike. A fourth armored personnel carrier was struck and destroyed near Sinjar at 3 p.m. EDT.
© Copyright IBTimes 2023. All rights reserved.
FOLLOW MORE IBT NEWS ON THE BELOW CHANNELS