US Airstrikes Hit Grain Silos In Syria, Killed Civilians, Human Rights Group Says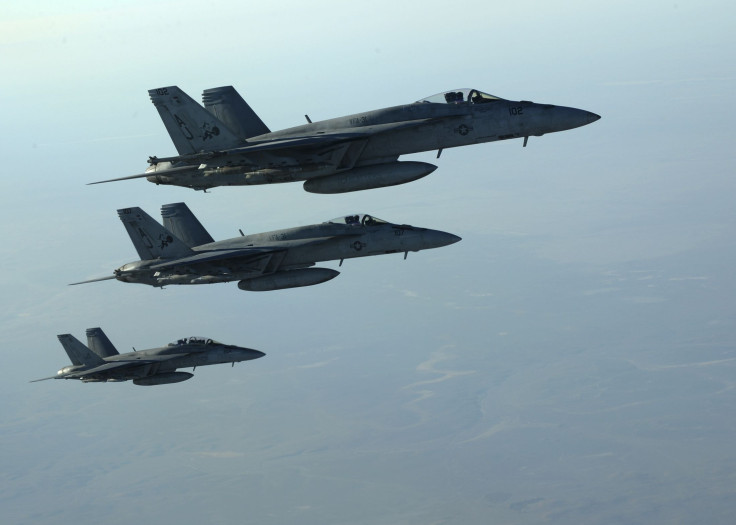 U.S.-led airstrikes against Islamic State group positions in northern and eastern Syria struck grain storage facilities and other targets, killing civilians, the Syrian Observatory for Human Rights said Monday. The watchdog group believes that pilots may have mistaken the grain silos and mills for ISIS military bases.
"They killed only civilians there, workers at the site. There was no ISIS inside," Rami Abdurrahman, the organization's director, told the Associated Press, adding that the airstrikes "destroyed the food that was stored there." Abdurrahman did not provide an exact number of civilian casualties, and the Syrian Observatory's claim were not independently verified.
A U.S. military official told Reuters that the strikes targeted ISIS vehicles near the grain silos, not the storage facility itself. There is no evidence of civilian casualties, the official said.
The grain silos are situated in the northern Syrian town of Manbij, in Aleppo province. A separate group, the Aleppo Media Center, confirmed the attack and said the grain facility caught fire, NBC News reports.
The airstrikes targeted ISIS-controlled facilities in Aleppo, Raqqa, Deir el-Zour and Hassakeh provinces, the Syrian Observatory said. Notably, coalition forces bombed the entrance to Syria's largest gas plant outside Deir el-Zour, wounding several Islamic State group militants. The plant itself was not damaged.
In addition, planes bombed a military base and an empty school that were each abandoned by ISIS fighters months ago, a source told the AP. They "must not have fresh intelligence," the source said.
The bombings were the latest in the United States' campaign to "degrade and destroy" the Islamic State group. Starting on Sept. 22, U.S. forces, along with Arab allies Saudi Arabia, Bahrain, Jordan, Qatar and the United Arab Emirates, began strikes against ISIS in Syria. Several European countries, including Britain, France, the Netherlands and Denmark, have also provided support to the operations.
U.S. officials have expressed particular interest in targeting ISIS-controlled oil facilities, a key source of revenue for the militant group, Reuters notes. ISIS reportedly controls six of Syria's 10 oil fields, as well as several others in Iraq.
Despite the airstrikes, ISIS fighters continue to push toward the city of Ayn al-Arab near the Turkish border. More than 100,000 people have fled to Turkey to escape the offensive.
© Copyright IBTimes 2022. All rights reserved.
FOLLOW MORE IBT NEWS ON THE BELOW CHANNELS