US Airstrikes In Syria: Timeline Of Events That Led Obama To Target Islamic State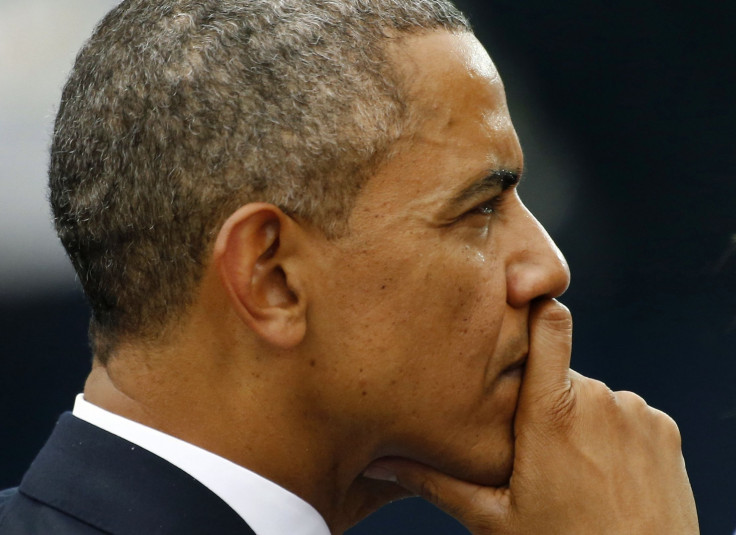 The U.S. and a coalition of five allied Arab countries launched airstrikes Monday against Islamic State group targets in Syria, Pentagon officials said. The bombings marked the first military action in war-torn Syria since President Barack Obama announced his plan to "degrade and destroy" the group formerly known as ISIS.
"I can confirm that U.S. military and partner nation forces are undertaking military action against [Islamic State] terrorists in Syria using a mix of fighter, bomber and Tomahawk Land Attack Missiles," Pentagon press secretary John Kirby said in a statement. The group is also known as ISIL.
Bolstered by cooperation from Bahrain, Qatar, Saudi Arabia, Jordan and the United Arab Emirates, U.S. military forces began the airstrikes at around 8:30 p.m. EDT, the Associated Press reports. At least 20 Islamic State group militants were killed in the strikes, said the Syrian Observatory for Human Rights, a watchdog group which has tracked Syria's ongoing civil war.
The airstrikes reportedly targeted militants in Islamic State's self-declared capital city of Raqqa, as well as Deir al-Zor, Hasakah and Albu Kamal, Reuters reports. In addition, the U.S. military launched solo strikes to "disrupt" an al Qaeda-affiliated group known as the Nusra Front, U.S. Central Command said. At least 50 Nusra Front fighters and eight civilians were killed in those bombings, the Syrian Observatory for Human Rights said.
Syria has been embroiled in a civil war since 2011, when uprisings began against the government of President Bashar Assad. The conflict has killed more than 190,000 people and displaced millions more, according to United Nations estimates.
The Islamic State group took advantage of the power vacuum to seize control of vast tracts of territory in the troubled nation. Though ISIS also controls land in Iraq, estimates suggest that about two-thirds of its 31,000 fighters are concentrated in Syria.
Given Syria's status as a sovereign state, the U.S. government initially expressed reluctance to carry out military action in the country, despite pleas from anti-Assad rebels. However, the Islamic State group's brutal tactics, such as its slaughter of civilians and the beheadings of James Foley, Steven Sotloff and David Haines, prompted Obama to act. Earlier this month, Obama announced plans for military strikes that would "degrade and destroy" the Islamic State.
"I have made it clear that we will hunt down terrorists who threaten our country, wherever they are," Obama said. "This is a core principle of my presidency: If you threaten America, you will find no safe haven."
A timeline of some of the events that prompted America to launch airstrikes at Islamic State group targets in Syria can be viewed below.
2006
ISI is born: Abu Ayyub al-Masri, leader of al Qaeda in Iraq, announces the creation of the Islamic State in Iraq and taps Abu Omar al-Baghdadi as its leader. The group seeks to claim territory and establish a modern Islamic, theocratic state.
2011
Syrian Civil War Begins: Unprecedented pro-democracy protests against Assad erupt into a full-fledged military conflict. Supported by Iran and Hezbollah, pro-Assad forces face off against various rebel groups. Meanwhile, the Islamic State group is at war with both sides. So far, more than 190,000 people have been killed in the fighting, with millions more displaced.
2013
ISIS is born: the Islamic State in Iraq announces that it has absorbed Syrian militant group Jabhat al-Nusra. The combined group is known as the Islamic State in Iraq and the Levant, as well as ISIS or ISIL.
2014
January
Obama compares ISIS to a "JV" team: Asked about the threat posed by ISIS -- a resurgent offshoot of al Qaeda -- Obama tells the New Yorker that the fledgling group is not a major threat.
"I think the analogy we use around here sometimes, and I think is accurate, is if a JV team puts on Lakers uniforms, that doesn't make them Kobe Bryant. I think there is a distinction between the capacity and reach of a bin Laden and a network that is actively planning major terrorist plots against the homeland versus jihadists who are engaged in various local power struggles and disputes, often sectarian," Obama said.
June/July
ISIS Offensive: In an unprecedented offensive, Islamic State militants seize control of vast tracts of territory in eastern Syria and Western Iraq, including Mosul, Iraq's second-largest city, and Tikrit. The group's leaders announced the official formation of a new caliphate, bereft of state borders, but no nation on earth recognizes it.
Aug. 8
Obama authorizes targeted airstrikes against ISIS: Weeks after sending 300 additional military personnel to Iraq, Obama announces that he has approved "targeted airstrikes" against the group if U.S. forces in the region are threatened.
Aug. 19
ISIS Beheads James Foley: The Islamic State releases a video which depicts the execution of American journalist James Foley. A masked man threatens to behead another hostage, American journalist Steven Sotloff, if Obama does not cease his campaign to launch airstrikes against ISIS in Iraq.
Sept. 2
ISIS Beheads Steven Sotloff: "I'm back, Obama," declares a masked Islamic State militant before the brutal execution of American journalist Steven Sotloff. Again, the man threatens Obama over U.S. military action against ISIS in Iraq.
"Just as your missiles continue to strike our people, our knives will continue to strike at the necks of your people," the militant said.
Sept. 10
Obama Vows To 'Degrade and Destroy' ISIS: The President addresses the nation, stating that the U.S. military has a plan to "degrade and ultimately destroy" ISIS. Obama condemns the organization as neither Islamic nor a state.
"ISIL is not 'Islamic.' No religion condones the killing of innocents, and the vast majority of ISIL's victims have been Muslim," President Obama said. "And ISIL is certainly not a state. ... It is recognized by no government, nor the people it subjugates," he said.
Sept. 13
ISIS Beheads David Haines: ISIS beheads British aid worker David Haines, marking its third execution of a Western-born civilian. This time, the masked man targets United Kingdom Prime Minister David Cameron, over his policy of arming Kurdish forces to combat ISIS in Iraq.
"This British man has to pay the price for your promise, Cameron, to arm the peshmerga against the Islamic State," the executioner said. He threatens to execute another British citizen, Alan Henning, if the U.K. continues to act against the Islamic State group.
FOR FREE to continue reading
✔️ Unlock the full content of International Business Times UK for free
offer available for a limited time only
✔️ Easily manage your Newsletters subscriptions and save your favourite articles
✔️ No payment method required
Already have an account? Log in
© Copyright IBTimes 2023. All rights reserved.