US Arms Makers Strain To Meet Demand As Conflicts Rage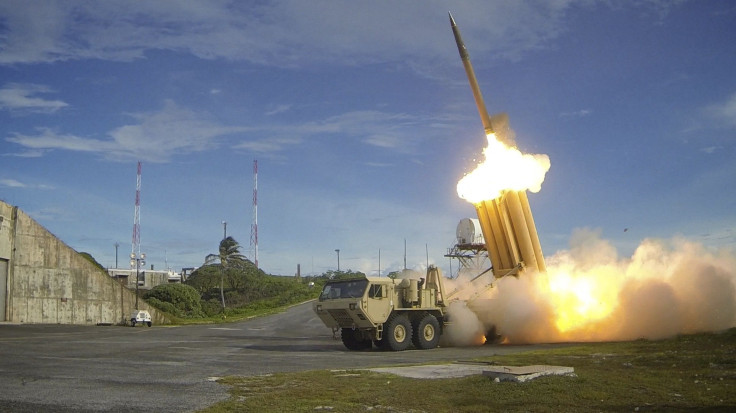 By Andrea Shalal
WASHINGTON (Reuters) -- Top U.S. arms makers are straining to meet surging demand for precision missiles and other weapons being used in the U.S.-led fight against Islamic State and other conflicts in the Middle East, according to senior U.S. officials and industry executives.
Global demand for U.S.-made missiles and so-called smart bombs has grown steadily since their use in the first Gulf War. But the United States and a host of allies are now rushing to ensure a stable supply of such weapons for what is expected to be a long fight against Islamic State, whose rise has fueled conflict in Syria and across a swathe of the Middle East.
U.S. officials say arms makers have added shifts and hired workers, but they are bumping up against capacity constraints and may need to expand plants or even open new ones to keep weapons flowing. That could create further log-jams at a time when U.S. allies are voicing growing concern that Washington's processing of arms sales orders is too slow.
Islamic State's deadly attacks in Paris last month have added urgency to the U.S.-led bombing campaign against the group in Iraq and Syria. The campaign had resulted in 8,605 strikes at an estimated cost of around $5.2 billion as of Dec. 2.
Meanwhile, a Saudi-led coalition including Bahrain and the United Arab Emirates and backed by Washington is carrying out a nine-month-old military campaign against Iran-backed rebels in Yemen. Gulf states are also supplying U.S.-made arms to rebels fighting Syria's government in that country's four-year-old war.
"It's a huge growth area for us," said one executive with a U.S. weapons maker, who was not authorized to speak publicly.
"Everyone in the region is talking about building up supplies for five to ten years. This is going to be a long fight" against Islamic State.
The impact is palpable in Troy, Alabama, where Lockheed Martin Corp builds its 100-pound Hellfire air-to-ground missiles at a 3,863-acre highly secured facility surrounded by woods and horse pastures. Realtors are adding staff in anticipation of new hiring at the plant, and the large grocery chain Publix is opening a store soon.
"What's good for Lockheed is good for Troy," said Kathleen Sauer, president of the Pike County Chamber of Commerce, adding that the expansion was helping a local economy where unemployment rates are already among the lowest in the state.
"Look at our downtown," she said. "Almost all the stores are open and we have more coming in."
Lockheed has added a third shift at its plant, which employed 325 workers as of February, and is now at "maximum capacity," said one executive familiar with the issue. The company announced in February that it will add 240 workers by 2020 and expand the facility, which also produces a 2,000-pound air-to-surface stealthy missile.
Frank Kendall, the Pentagon's chief arms buyer, told Reuters this week there has been particularly strong demand for the Hellfire missiles. At $60,000 to $100,000 apiece they are inexpensive compared to many missiles and can be launched from everything from aircraft and helicopters and ships to destroy armored vehicles or punch into buildings.
Kendall and other senior U.S. officials told Reuters they are working with Lockheed, Raytheon Co and Boeing Co. to ramp up production of precision munitions and potentially add new capacity.
"We are watching that closely. We are looking at the need to increase capacity," Kendall said.
SALES SURGING
Defense shares have performed strongly in recent months on expectations of better results, and many soared after the attacks in Paris.
Total U.S. foreign military sales approvals surged 36 percent to $46.6 billion in the year through September 2015 from around $34 billion a year earlier. Approved sales of missiles, smart bombs and other munitions to U.S. allies jumped to an estimated $6 billion in fiscal 2015 from $3.5 billion a year earlier.
This year alone, the U.S. government has approved the sale of Hellfires to South Korea, Pakistan, Saudi Arabia, Lebanon, France, Italy and Britain. In June, the U.S. Army said it had asked Lockheed to boost production of the Hellfire from 500 per month to 650 by November.
"There are essentially waiting lists for Hellfire. They can't make them fast enough," said one State Department official, who asked not to be identified.
Lockheed declined to provide any details about how it is meeting increased demand for Hellfires and other munitions.
In addition to approved foreign military sales, many munitions sales are overseen by the U.S. Commerce Department and negotiated directly between countries and companies. U.S. weapons makers do not routinely report such sales, and do not break down revenues by specific weapons.
Also in high demand, Kendall said, are Boeing's Joint Direct Attack Munition (JDAM) kits, which turn unguided munitions into smart bombs and have been used consistently to strike Islamic State targets in Iraq and Syria.
Last month, the State Department approved a $1.29 billion deal with Saudi Arabia for more than 22,000 JDAMS and other types of precision-guided bombs.
Boeing said it boosted the daily production rate of JDAMs at its facility outside St. Louis by 80 percent in July to meet demand from the U.S. military and more than 25 other countries.
Raytheon, one of the largest U.S. munitions makers, declined comment on its missile production work. The company has a large missile production facility in Tucson, Arizona, which could potentially boost production, Kendall said.
REACHING CAPACITY
Kendall said U.S. manufacturers had been "very responsive," but some facilities were already reaching maximum capacity and it would take years for firms to make necessary expansions.
He said the U.S. government could potentially chip in to defray the cost of new facilities and tooling, but that would be addressed on a case-by-case basis.
It takes time for foreign and U.S. orders to be processed by the U.S. bureaucracy and translate into contracts for companies, but that is now occurring, stretching many facilities to capacity limits, according to industry executives, who were not authorized to speak publicly.
Vice Admiral Joe Rixey, director of the Pentagon's Defense Security Cooperation Agency, said industry was keeping up with demand thus far but that pressures were mounting.
"We are reacting to get it done," Rixey told Reuters. "We're working on purchasing capacity and shifts."
Defense shares have been buoyed by a two-year congressional budget agreement that ensures stable funding for fiscal 2016 and 2017, share buybacks and growing confidence that a revenue trough is nearly over.
Raytheon told analysts in October that its missile sales - which account for about 28 percent of overall revenues - jumped 11 percent in the third quarter and looked set for further growth in the fourth quarter.
Lockheed and Boeing do not provide details about their missile sales, but they account for a relatively small - albeit growing - portion of their defense businesses, according to analysts.
The long-term increase in demand is also expected to boost revenues for key suppliers such as Orbital ATK and Aerojet Rocketdyne Holdings Inc, which make the propulsion systems for many of the missiles.
U.S. Air Force Chief of Staff General Mark Welsh said the U.S. military had increased its orders in recent years to replenish and expand its stockpiles, but more work was needed. He said Washington was encouraging its allies to do the same.
"We all have to be better at pre-planning for munitions, because they're expensive and we don't have an industrial base that can spin up over night and produce them," he said last week after a speech hosted by the Atlantic Council think tank.
For U.S. towns and cities that are reliant on the arms industry for growth, the growth is welcome economic news despite the rise in global conflicts.
"It's a dangerous world," said Kevin Flowers, who works at Alabama Real Estate Connection in Troy, which he said was adding staff in anticipation of further expansion by Lockheed.
"We have to be ready. Better safe than sorry."
(Additional reporting by Idrees Ali in Washington and Rich McKay in Troy, Alabama; editing by Stuart Grudgings)
© Copyright Thomson Reuters 2023. All rights reserved.