US Companies Scramble To Uncover Conflict Minerals In Unexpected Places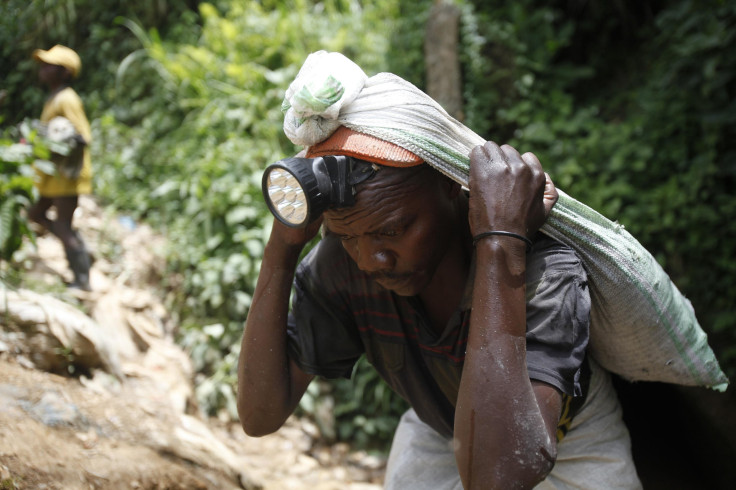 You will soon be able to find out whether your cell phone, laptop or even toothpaste is made with minerals mined in conflict-prone countries, where they are often used to fund criminal activity.
So-called conflict minerals – such as gold, tin, tantalum and tungsten – are heavily used in electronics and many other products, even some you wouldn't expect to contain them, like toothpaste and bras. And by May 31, more than 10,000 U.S. companies across dozens of sectors will have to report to the Securities and Exchange Commission whether their products contain such minerals. Supply chains can be very long and complicated, so companies are scrambling to make the deadline.
"From cellphones to toothpaste, vehicle parts to medical devices, manufacturers both large and small are affected by Section 1502 of the Dodd-Frank Wall Street Reform and Consumer Protection Act," reads a report from Crowe Horwath LLP.
The regulation was adopted in 2010 largely to help end human rights abuses in the Democratic Republic of the Congo, where indigenous minerals are known to help fund criminal gangs and militias. It requires all companies registered with the Securities and Exchange Commission to submit an annual report, starting this year, outlining if and how these materials are used in their products.
The efforts are focused on the DRC, but other "covered countries" include Angola, Burundi, Central African Republic, the Republic of the Congo, Rwanda, South Sudan, Tanzania, Uganda and Zambia, all mineral-rich African nations.
Since 2010, the rules have been adjusted to exempt certain companies and industries. For example, retailers such as J.C. Penney, Costco, Lowe's and Target successfully lobbied to be exempt from the rule, as long as they're not manufacturing the products they sell. Food companies such as McCormick & Co. are also not responsible for any materials used in the packaging of their products.
They managed to escape the billions needed to conduct thorough research, but other companies had no choice.
Intel and Hewlett-Packard are two companies that have "stood out ahead of the pack," in terms of actively pursuing a conflict-free supply chain, according to a report from the Enough Project, a human rights advocacy group, which also cited Apple Inc., Sony, Nokia and Microsoft as examples of companies taking positive steps.
Health care giant Johnson & Johnson has been investigating the sources of its products.
"Tin, tungsten, tantalum and gold are essential in the manufacture of a variety of electronic and medical devices, and other products, including some products of the Johnson & Johnson Family of Companies," reads a statement from the health care product manufacturer, pledging to investigate. Toothpaste, for example, can sometimes contain stannous fluoride, a tin compound.
The metals are also found in some clothing, shoes and accessories.
"Anywhere from the underwire in bras to the solder in jewelry," said Marie D'Avignon, manager of government relations at the American Apparel and Footwear Association (AAFA), in a video seminar, published in February, where she outlined the types of clothing that could contain conflict minerals.
Anything with buttons, zippers, rivets or other fasteners could contain tin or gold composites. Likewise, the underwires in certain types of bras, glitter or shiny materials, and even leather -- because tin is used in the tanning process. Eyeglasses and watches could also contain conflict minerals.
In its report, the AAFA advises its members that X-ray technology can be used on various products to help determine the presence of these minerals.
But determining which products contain the materials is only the first step. According to the SEC regulations, companies must then identify the country where the minerals originated, and conduct due diligence to assess whether or not the countries comply with the rules.
It's not simple.
"The complexity of supply chains is more than a lot of people really realize unless they're involved in it," said Barbara Kipp, conflict minerals solution leader at PricewaterhouseCoopers, which published a report on Monday outlining the progress made by companies toward compliance.
"These products have many components to them, and many of those components have metals in them and they may have multiple suppliers, and ultimately they may be several steps removed from the source where these minerals are mined," she said.
This is one of the reasons why so many companies still have yet to draft their SEC filings. According to the PwC report published this week, a quarter of the companies surveyed were still in the "early stages" of compliance.
But even without the rules, the arduous process is worthwhile. More than a third of companies said they were concerned about losing customers if they were shown to have conflict minerals in their products, and 8 percent were worried about future boycotts.
"Overall, while many continue to struggle with what has proven to be a more challenging endeavor than they anticipated, companies are clearly seeing both opportunities and consequences resulting from their efforts to comply with the conflict minerals rule," the report reads.
FOR FREE to continue reading
✔️ Unlock the full content of International Business Times UK for free
offer available for a limited time only
✔️ Easily manage your Newsletters subscriptions and save your favourite articles
✔️ No payment method required
Already have an account? Log in
© Copyright IBTimes 2023. All rights reserved.