US Defense Chief Nominee Ashton Carter Wants A Faster Embrace Of New Technologies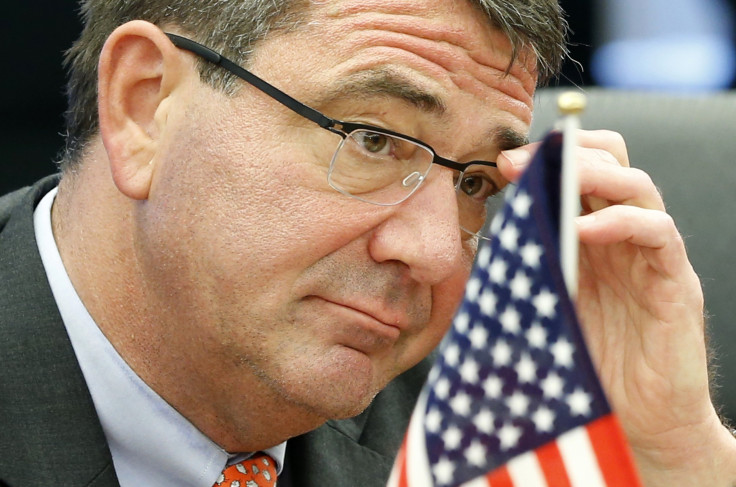 To hear Ashton Carter talk, he sounds more like a Silicon Valley entrepreneur than a Washington policy wonk. The White House nominee for secretary of defense is strongly in favor of identifying and implementing so-called disruptive technology to advance U.S. military strategy.
Technology is commercial and global, Carter has noted, and it requires a new way of thinking about how to use it to bolster a country's national security before anyone else does. In a world where the federal agencies use social networking sites and smartphone GPS apps to spy on targets, Carter is likely to push for government's use of more cutting-edge commercial technologies that disrupt or unsettle popular notions of waging war.
In public speeches, academic papers and other writings, Carter has created a paper trail that offers insight into how he'd guide spending for the world's most well-funded military. He has said, for instance, that military technology is no longer something developed in a high-clearance government laboratory, or in a secretive company incubator nestled safely inside national borders.
"Juxtapose the world of then and the world of now," Carter said in 1999 at a conference on future national security threats. "In the world of then, defense technology originated in a defense technology base that was embedded in defense companies that resided in the United States, for which defense was their main driver. Now, defense technology increasingly originates in a commercial technology base that's embedded in commercially driven companies that are not American, rather they are global."
Speaking two years before the Sept. 11 terrorist attacks, Carter predicted a future of "catastrophic terrorism" involving a "grisly mixture" of war and crime where "small groups would be able to wreak warlike damage on our homeland." To combat these and other threats, the Ivy League-educated physicist with an extensive Pentagon background said defense strategies must look globally at what's being innovated for commercial purposes, and then – and this is important, he says – adopt them as quickly as possible and before anyone else does.
"Military advantage will be conferred by the rapid adoption and integration of mostly commercial technology," he added.
At the time, Carter was a senior executive for Global Technology Partners, a group of defense and aerospace investment professionals made largely of former Pentagon officials involved in acquiring and investing in defense, technology, aerospace and related businesses worldwide.
During this 12-year hiatus from the public sector (he served as an assistant secretary of defense from 1993 to 1996), Carter was involved in a business of acquiring and investing in defense, technology, aerospace and related businesses worldwide. He's also served as an adviser to investment bank Goldman Sachs on global affairs
In an article for Foreign Affairs magazine earlier this year, Carter again reflected on the need for the Pentagon to quickly provide technology and equipment to troops on the battlefield, a problem the department has yet to resolve. "I have spent much of the past five years, first as undersecretary of defense for acquisition, technology, and logistics and then as deputy secretary of defense, trying to address this shortfall," he wrote.

Carter's support for this rapid deployment of new technology from the private sector has its critics, who claims private-sector procurements are often rushed, leading to massive amounts of waste of taxpayer funds.
In 2012, Carter defended a $45 billion Pentagon program to purchase and deploy 27,000 mine-resistant ambush-protected vehicles, known as MRAPs, claiming they saved more lives in Iraq and Afghanistan than were lost in the Vietnam War. Companies that won bids to build the replacement to the armored Humvee included BAE Systems and Oshkosh Truck.
The program faced criticism from defense analysts who said they were no better at saving lives than the less-costly armored Humvees they replaced. Deficit hawks including Sen. Tom Coburn (R-Okla.) said the program was rushed through a 2007 procurement process that led to an oversupply.

Last year, the Pentagon decided it had no postwar use for half of the massive, beige military vehicles and began shredding many of them, selling the scrap metal to the Afghans at pennies on the pound. Hundreds ended up doled out to local police forces in the U.S., leading to public outcry following the seemingly heavy-handed response to protests following the Michael Brown shooting in Ferguson, Missouri.
FOR FREE to continue reading
✔️ Unlock the full content of International Business Times UK for free
offer available for a limited time only
✔️ Easily manage your Newsletters subscriptions and save your favourite articles
✔️ No payment method required
Already have an account? Log in
© Copyright IBTimes 2023. All rights reserved.