US Easing Cuba Sanctions? Some Export, Travel Restrictions Lifted In Move To Normalize Relations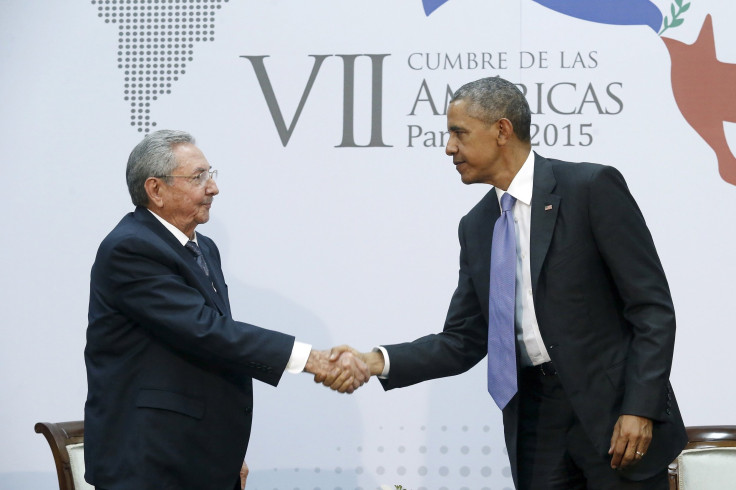 U.S. officials announced changes in the country's sanctions policy regarding Cuba Tuesday, easing restrictions on travel and export to the island nation, various media outlets reported. The lifted export and travel guidelines come as part of an ongoing effort to normalize long-hostile relations with Cuba.
The move will see a broadening of authorized travel licenses and remove financial restrictions on most exports. It will also make it easier to obtain export licensing for commodities, boosting exports of goods, including civil aviation equipment, telecommunications and agricultural items, CNN reported. The lifted restrictions will also ease travel to Cuba, allowing "blocked space, code-sharing and leasing agreements with Cuban airlines,­" Reuters reported.
The U.S. and Cuba have maintained tense relations since Cuba's 1959 communist revolution. Last summer, Washington and Havana launched high-level talks to gradually normalize relations. The countries have since restored diplomat relations, opening embassies in each respective nation.
Cuba Overview | FindTheData
Cuban President Raul Castro has in the past said that the decades-old American economic blockade on his country remained the "main obstacle" to the communist-ruled island's development. He said at the time that the warming relations were a welcome step, but ultimately the embargo would need to be entirely lifted for future development.
The U.N. General Assembly approved a resolution last year calling on the U.S. to lift its commercial, economic and financial embargo. Some in Congress, however, have been critical of easing relations. Cuba would like to revive its tourism industry and expand its medical-device and pharmaceutical industries.
"Today's amendments to the Cuban Assets Control Regulations build on successive actions over the last year and send a clear message to the world: the United States is committed to empowering and enabling economic advancements for the Cuban people,­" Treasury Secretary Jack Lew said in the statement.
Penny Pritzker, the commerce secretary, said regulations would make a difference with disaster preparedness, educational and artistic pursuits, agricultural production and public transportation.
"Looking ahead, we will continue to support greater economic independence and increased prosperity for the Cuban people, as we take another step toward building a more open and mutually beneficial relationship between our two nations," Pritzker said in a statement.
© Copyright IBTimes 2023. All rights reserved.