Cuban President Raul Castro Says US Embargo Is 'Main Obstacle' To Cuba's Development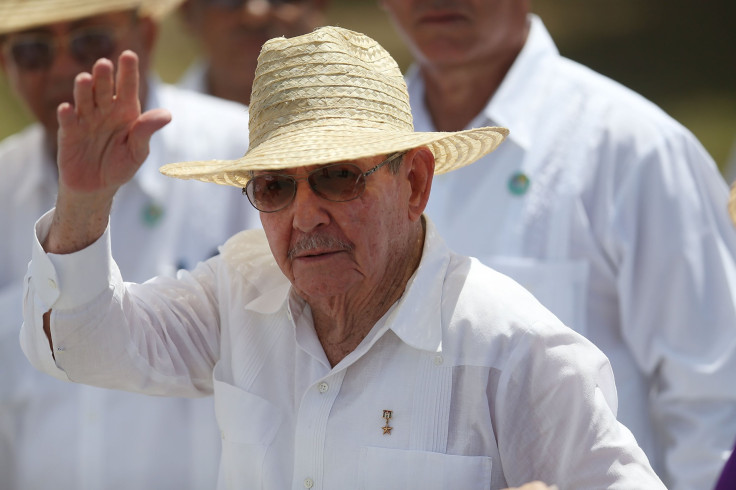 Cuban President Raul Castro took a swing Saturday at the 55-year-old American economic blockade of his country, saying it's the "main obstacle" to his nation's development. While Castro indicated the recent warming of the diplomatic relations between Havana and Washington is a welcome step, he said the halting of the embargo would be vital to the future development of the Caribbean country.
"Such a policy is rejected by 188 United Nations member-states that demand its removal," Castro said in a speech at a U.N. development summit in New York. He also will address the U.N. General Assembly Monday, a few hours after U.S. President Barack Obama delivers his own speech.
The U.N. General Assembly has approved a resolution calling on the U.S. to lift its crippling commercial, economic and financial embargo on Cuba for 32 consecutive years. Despite this widespread international consensus, Congress has voted on several occasions to strengthen the embargo put in place in 1960 after Cuba's Communist government appropriated American-owned assets such as crude-oil refineries in the wake of the Cuban Revolution.
Cuba claims the embargo has cost the country about $121 billion in economic damages.
During Castro's speech Saturday, he called on developed countries to do more to accept responsibilities for the debt issues faced by many developing nations.
Asylum-Seekers in the United States from Cuba by Year | FindTheData
Most of Cuba's economic activity is hobbled by the U.S. embargo, which can only be scrapped with Congress' backing. Under the embargo, the U.S. can under certain circumstances punish foreign companies doing business in Cuba that also have American investments. Because so many global firms have significant U.S.-based assets, they fear retaliation over doing business in Cuba.

Politically, U.S. lawmakers have been emboldened by Cuban exiles in Florida, a key swing state, to take a hard stance against Havana. In 1996, Democratic President Bill Clinton signed the Republican-sponsored Helms-Burton Act, which strengthened the embargo.

Late last year, however, Obama began carrying out a series of executive actions to boost ties between the American and Cuban governments. These actions have encompassed reopening Washington's embassy in Havana and, more recently, doing away with restrictions on some business activity, economic transactions and travel. Obama's strategy is aimed at forcing Cuba to accept reforms, such as allowing U.S. technology companies to invest in the country now that it's legal, and at urging Congress to lift the embargo.
The death of the embargo would spark a rapid chain of events. Cuba would act to reform its monetary system -- the country has two currencies, one pegged to the U.S. dollar and another that isn't -- so it could approach the International Monetary Fund and World Bank for access to development loans to build much-needed infrastructure.
Cuba's tourism industry would see immense investments, and the country would expand its already established medical-device and pharmaceutical industries. It also would see profound changes in its agricultural sector by spurring investment and exports.
© Copyright IBTimes 2022. All rights reserved.
FOLLOW MORE IBT NEWS ON THE BELOW CHANNELS