US, Europe Arms Sales Decline For Third Year In A Row, Russia Sees Spike In Sales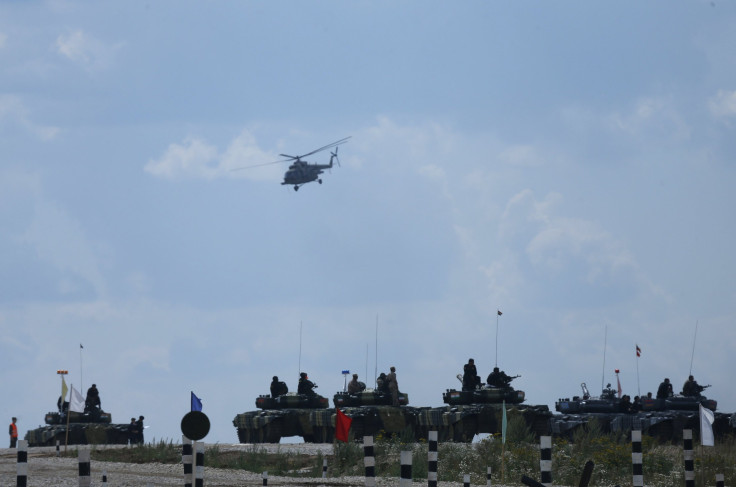 Global arms sales by top 100 defense companies in the world fell for the third year in a row, while Russian arms sales went up by 20 percent, according to new data compiled by the Stockholm International Peace Research Institute (SIPRI), a Sweden-based independent think tank.
SIPRI's data show that arms sales from the top 100 global defense firms added up to $403 billion in 2013, and according to the report, despite recent headwinds, companies based out of the U.S. and Western Europe remained dominant global arms suppliers. "The 2013 increases in arms sales by Russian companies are largely due to the current State Armaments Plan's ongoing project to strengthen indigenous arms procurement," according to SIPRI.
"This is the third consecutive year of decline in the total arms sales of the 100 largest arms producers and military services providers. With a decrease in sales of 2 percent in real terms compared to 3.9 percent in 2012, the pace of the decline has slowed slightly. This is partly attributable to significant increases in arms sales by Russian companies and other emerging suppliers," the report noted.
Lockheed Martin, Boeing, BAE Systems, Raytheon and Northrop Grumman were the top global arms sellers, according to the report. Along with U.S. and Canadian defense majors, Italian and Spanish arms producing companies also registered a decline, while Russian and French companies saw an increase in sales, the report said, adding that sales by British firms "remained stable."
According to the think tank, Russia's Tactical Missiles Corporation saw the largest increase in sales in 2013 and a growth of 118 percent, followed by Almaz-Antey (34 percent) and United Aircraft Corporation (20 percent).
"Almaz-Antey's arms sales in 2013 make it the 12th-largest arms producer (excluding China) and bring it closer to the top 10, which has been exclusively populated by arms producers from the US or Western Europe since the end of the cold war," the think tank added.
SIPRI also identified countries such as South Korea, Brazil, India, Singapore and Turkey, among emerging arms suppliers.
In November, it was reported that India had become the world's largest arms importer and is expected to spend more than $130 billion over the next seven years. Although much of India's military hardware continues to be of Russian origin, the U.S. has surpassed Russia as its biggest supplier.
According to SIPRI, Chinese defense companies are believed to have sold hardware worth over $260 billion in 2012, but the latest report does not consider China as no credible data for later years are available. In March this year, citing another report from SIPRI, China's Global Times had reported that the country was the fourth largest arms exporter in the world.
© Copyright IBTimes 2023. All rights reserved.