US Forces In Okinawa Under Monthlong Night Curfew Following Rape, Murder By Former Marine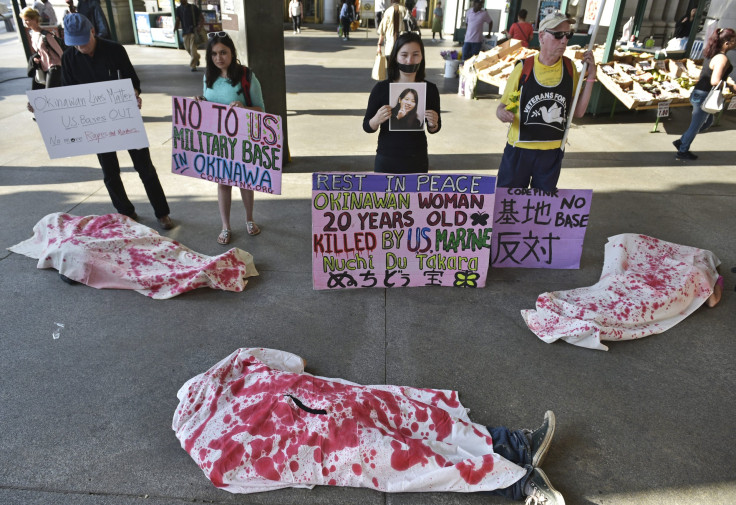 U.S. forces on the island of Okinawa in Japan — home to a majority of U.S. bases in Japan and more than half its 47,000 military personnel stationed there — are under a monthlong night curfew that began Friday. The announcement by Lt. Gen. Lawrence Nicholson, commander of U.S. military forces in Okinawa, was made Thursday in response to two recent cases of crimes — sexual assaults and in one case, murder — allegedly carried out by U.S. service members.
The 30-day curfew, called a "period of unity and mourning" by Nicholson, will last till June 24 and "will include the postponement of all festivals, celebrations and concerts on our bases and stations," he said at a press conference.
The "modified liberty regulation" will curtail "off-installation activities" for all personnel, including officers. All personnel must return to base by midnight, and are prohibited from purchasing or consuming alcohol outside the bases. Nicholson also appealed to all U.S. forces stationed in Okinawa to "consider their roles as ambassadors to Japan and good neighbors with the people of Okinawa."
Before Nicholson's announcement, U.S. President Barack Obama had expressed his "sincerest condolences and deepest regrets" over the killing of a 20-year-old woman by a former Marine, Kenneth Franklin Shinzato, who is now a civilian employee at the U.S. Air Force's Kadena Air Base. Shinzato, who reportedly admitted to sexually assaulting and killing Rina Shimabukuro, was arrested last week.
Referring to the case during a joint press conference Wednesday with Japanese Prime Minister Shinzo Abe, Obama said: "The United States will continue to cooperate fully with the investigation and ensure that justice is done under the Japanese legal system."
In the other recent case, Justin Castellanos, a U.S. Navy sailor, pleaded guilty Friday to raping a Japanese woman, in her 40s, in his hotel room after he found her asleep in a hotel corridor. Prosecutors said the 24-year-old, stationed at U.S. Marine Corps Camp Schwab, took advantage of the woman after failing to wake her up.
Local resentment against U.S. troops is strong in Okinawa, where there has been a long history of crimes — including rapes, assaults and hit-and-run accidents — involving U.S. service members and their dependents. Perhaps the worst incident was the 1995 gang-rape of a 12-year old girl by U.S. troops. The islanders have long been protesting for the removal of U.S. bases from Okinawa.
© Copyright IBTimes 2023. All rights reserved.