US General In Afghanistan Calls For Slower Troop Withdrawal Between Now And 2016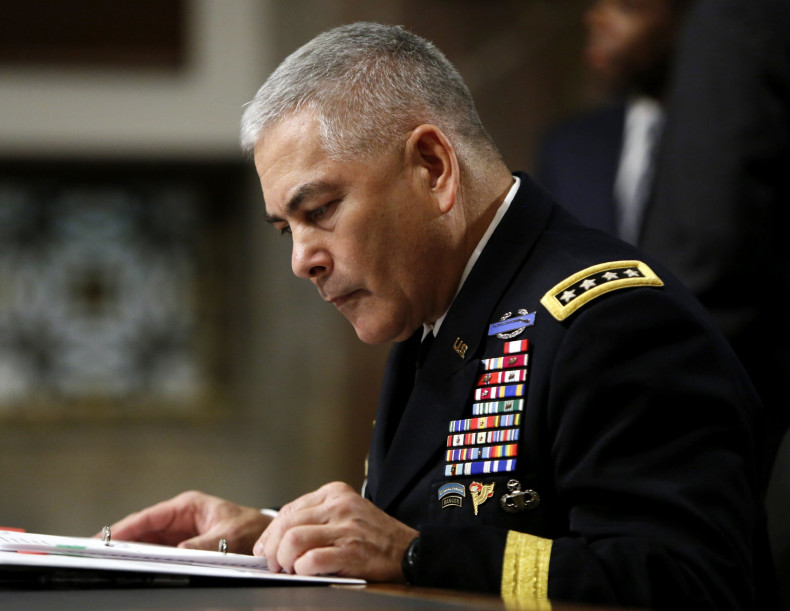 U.S. Gen. John F. Campbell has thrown his hat into the ring of military and government leaders calling for President Barack Obama to reconsider his path to withdraw most troops from Afghanistan by 2016. Speaking recently to the House Armed Services Committee, the general said the U.S. may require troops removed from the country at a slower pace to allow them to complete their mission to train Afghan security personnel.
According to the Washington Post, Campbell testified that he would like to see how well the new "train, advise, assist commands" (TAACs) succeed in allowing senior Afghan military officials to stand on their own before reducing troop numbers to 5,500 by 2016, as currently planned.
"What I really want to make sure we can do is get through what we call a full fight season – April through the late-September time frame – focused on train, advise and assist, plus with our [counterterrorism] mission," he said in the video posted below. "If we look at a downsize of 5,500, that potentially could take our eye off the focus of train, advise and assist when we really need it."
The TAACs were established at the beginning of 2015, when Campbell took command of U.S. troops in Afghanistan as well as the remaining NATO troops now that the organization has formally ended its combat mission there, according to CBS News.
Campbell is one of many prominent figures urging Obama to slow the withdrawal of U.S. troops from the country, where Taliban and al Qaeda forces have been stepping up violence recently.
CNN noted that newly appointed U.S. Defense Secretary Ashton Carter already began managing people's expectations about the withdrawal of troops from Afghanistan last month at a joint appearance in Kabul with Afghan President Ashraf Ghani.
"Our priority now is to make sure this progress sticks. That is why President Obama is considering a number of options to reinforce our support for President Ghani's security strategy, including possible changes to the timeline for our drawdown of U.S. troops," Carter said. "That could mean taking another look at the timing and sequencing of base closures to ensure we have the right array of coalition capabilities to support our Afghan partners."
Meanwhile, Ghani has been clear in his call for the Obama administration to rethink its course of action. He told "60 Minutes" in January: "Deadlines concentrate the mind. But deadlines should not be dogmas. If both parties, or, in this case, multiple partners, have done their best to achieve the objectives and progress is very real, then there should be willingness to re-examine a deadline."
© Copyright IBTimes 2022. All rights reserved.