US Government And Rights Groups Say China's New Law On Foreign NGOs Will Restrict Contacts, Hit Civil Society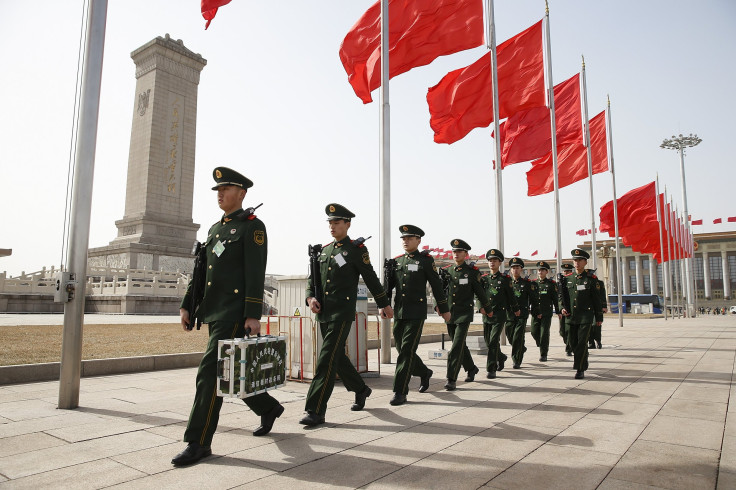 SHANGHAI — China's new law on foreign NGOs will further limit the activities of civil society organizations in the country, experts and human rights groups warned, after the controversial legislation, which requires foreign NGOs to work with a local partner and gain approval by the police, was passed by China's cabinet late Thursday.
China said the law, which has been criticized by overseas and domestic activists since a draft version was published last year, would protect NGOs' rights – while at the same time defending China's national security against the "small number" of such groups that conducted "illegal and criminal" activities.
Observers have welcomed the fact that the revised final draft removed draft proposals to limit foreign NGOs to only one office in China, and to force them to reapply for registration every five years. It also removed requirements for groups involved in temporary projects in China to obtain an operating license, provided their Chinese partner obtained the necessary permission. And it appears to have allayed worries that foreign colleges and hospitals could be affected by the rules.
But the new law imposes tougher conditions on funding of NGOs, saying they must have their financial reports audited and published, and does not allow them to raise funds in China. And in a key change, it strengthens the power of the police over the sector – at a time when China's public security officials have been instrumental in a tough crackdown on civil society activists in fields such as workers' rights protection and legal advice.
"Beijing hardly needs more ammunition to crack down on civil society groups," said Sophie Richardson, China director of New York-based Human Rights Watch (HRW), in a statement.
But she said the "draconian" law, with its vaguely worded warnings against activities that could threaten China's "national unity, national security or ethnic unity," would further restrict foreign involvement in areas seen by China as sensitive.
In January China expelled a Swedish national, Peter Dahlin, who had been involved with grassroots legal aid activities in China, accusing him of defaming the nation and sensationalizing local issues.
HRW's Richardson noted that under the new law, not only do NGOs need to register with the police, rather than with China's Ministry of Civil Affairs, as was the case in the past, but police also gain "extensive investigation and enforcement powers, including the ability to arbitrarily summon representatives of overseas groups, cancel activities deemed a threat to national security, blacklist groups … [or] permanently bar them from setting up offices or organizing activities in the country."
Police would also have the right to enter NGOs' premises and seize documents and other information, and examine groups' bank accounts and limit incoming funds, she said. And HRW said the organizations would still be subject to an annual assessment, which would determine whether they were allowed to continue operating - and said police would play a part in this.
And the law still does not allow foreign NGOs to recruit members in China – as many overseas environmental groups do in other countries, for example – without special permission from the country's cabinet, the State Council, according to the official Xinhua news agency.
Activists also said it might be hard for groups working in relatively sensitive fields to find a Chinese partner – a problem that has already led some foreign NGOs working in China to register as businesses in order to continue operating, meaning they have to pay tax. And there are also concerns that the rules will make it harder for Chinese NGOs to gain funding from foreign partners, HRW said. Police in Guangdong recently arrested several activists from a long-established workers' rights organization – accusing them of taking foreign funds to stir trouble.
Professor Yang Xiong, a specialist on social organizations at the Shanghai Academy of Social Sciences, told International Business Times that the police would generally be "friendly" to foreign organizations, adding that many NGOs had contributed to China's development and brought the country new ideas of public service. He also said the rules would make it easier for foreign organizations to organize joint activities with Chinese partners. But he added that, "in the past five to ten years, some NGOs have strayed from their appropriate role, and carried out subversive or unfriendly actions" – and therefore police needed enhanced powers.
"Some groups use the slogan of women's rights or the environment to stir trouble, or motivate workers to protest." he said. "What they say sounds good on the surface but really they're unfriendly [to China.]"
However the U.S. government has expressed concern at the new law, saying it would limit contacts between individuals and groups in the two countries, a view echoed by Germany's ambassador to China, Michael Clauss.
"The law continues to focus strongly on security and contains numerous approval and documentation requirements, as well as other norms restricting ­activities," Clauss told the South China Morning Post.
Critics said the new law was another sign of tightening social controls under President Xi Jinping. Since Xi took office some three years ago, China has passed or drafted new laws on national security, terrorism, and the internet, and stepped up criticism of foreign values, while warning citizens to be on the lookout for foreign spies.
He Yong, of the Beijing office of the International Fund for Animal Welfare, a foreign NGO that has operated in China for many years, told the official Global Times newspaper that the choice of the police – rather than civil affairs departments – to manage such foreign groups "shows that China is still conservative about overseas NGOs."
And Professor Hu Xingdou, an economist specializing in social issues at the Beijing Institute of Technology, told IBT that while many Chinese officials have "accepted modern culture and ideas .. some still have traditional ideas of class war and hostile [foreign] forces, and see all NGOs as hostile forces, opposed to China."
"Many foreign NGOs are very friendly and helpful," Hu added. "I think we should be more open – we should encourage NGOs, whether foreign or domestic. This will help China develop a healthy civil society – which would be a big help to the government: It can save it from having to take responsibility for everything, all social issues."
FOR FREE to continue reading
✔️ Unlock the full content of International Business Times UK for free
offer available for a limited time only
✔️ Easily manage your Newsletters subscriptions and save your favourite articles
✔️ No payment method required
Already have an account?
Log in
© Copyright IBTimes 2023. All rights reserved.