US Housing Market Recovery Hits Temporary Soft Patch, Home Prices Still Expected To Rise By 5% In 2014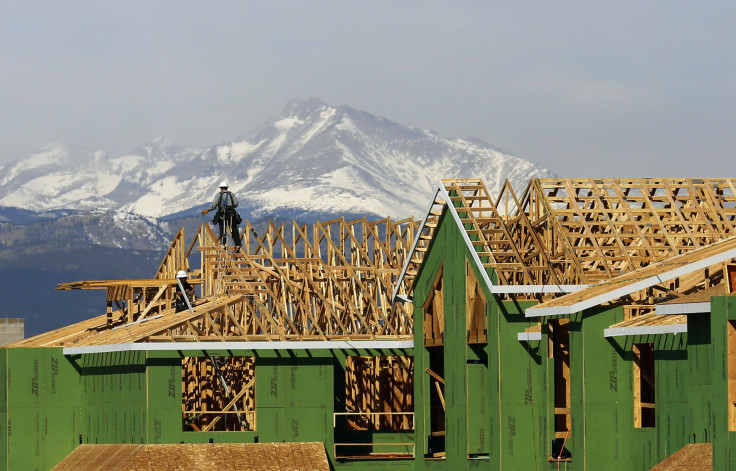 The U.S. housing market recovery is starting to show signs of deceleration after two years of double-digit growth, as falling affordability and unusually cold weather chilled market activity. But economists remain hopeful that a spring rebound, among other factors, will push home prices moderately higher this year.
National home prices will likely increase by 4.5 percent to 5.0 percent in 2014, followed by 3.5 percent to 4.0 percent gains in subsequent years, Nomura forecast in a report released late last week, with stronger growth expected in the West and Northeast.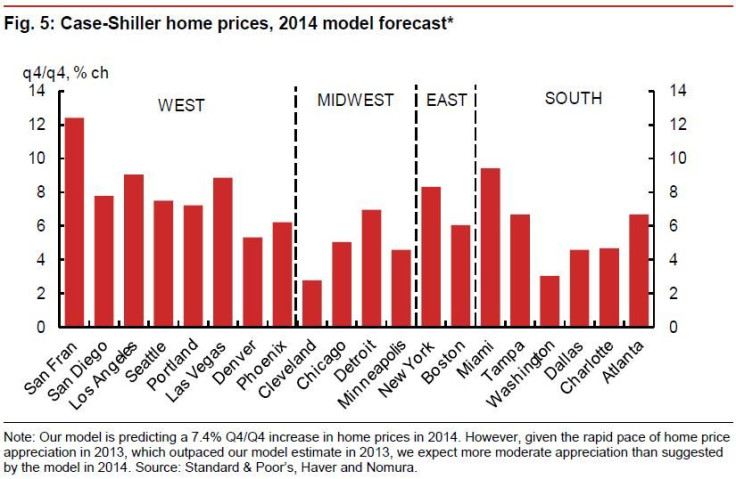 Construction activity hits a temporary slow patch. Ground-breaking declined by 11.2 percent in January and 0.2 percent in February amid harsh winter weather. Moreover, housing starts have fallen most in the Midwest, the region that has experienced the most adverse weather conditions. Nomura sees this softness as temporary and expects a rebound in construction activity once the winter thaws.
New home sales weathered the winter. Unlike housing starts, new home sales weathered the storms in January, jumping to the highest sales rate in almost six years. New homes are often purchased before construction has started or at some point along the way, therefore this measure is less influenced by the weather condition.
Moreover, new home sales are more skewed toward the South, which is less sensitive to winter weather. About 55 percent of new home sales are in the South, compared to 40 percent for existing home sales.
Nomura expects new home sales to continue to improve in coming years because of strong housing demand, largely owing to a significant amount of pent-up demand.
The pace of existing home sales, on the other hand, remains depressed. Existing home sales declined for five of the past seven months, falling a cumulative 14 percent and reaching the lowest level since summer 2012.
While some of this weakness can be viewed as a payback following the big run-up in sales in response to the initial jump in mortgage interest rates in May 2013, other factors are contributing to recent declines. According to Nomura, these include the low inventory of homes available for sale, rapid home-price appreciation, the adverse weather conditions and potentially the short sale tax credit expiration.
In addition, much of the recent decline in existing home sales was concentrated in homes with a value of $100,000 or less, potentially indicating a drop in investor purchases, as the number of distressed homes available for sale declines.
Rising mortgage rates indicates a slower housing market recovery. The Mortgage Bankers' Association's (MBA) mortgage applications for purchase volume index and refinance index are off their May 2013 highs by 23 percent and 69 percent, respectively.
"Given that mortgage rates are almost 100 basis points higher than they were a year ago, we do not expect meaningful gains in the refinance index anytime soon," says Nomura's Aichi Amemiya and Roiana Reid in a note. "However, there will have to be further improvement in the purchase index to make the housing recovery sustainable as the appetite of all-cash buyers diminishes."
The Mortgage Bankers' Association, Fannie Mae and Freddie Mac are all expecting further slowdown in refinance activity but a gradual pickup in the volume of new loan originations for purchases.
Housing is less affordable than it was a year ago, but still affordable by historical standards. Nomura expects interest rates to remain stable over this year, especially with tapering widely accepted in financial markets. Nomura forecasts the 30-year mortgage rates to end the year in the 4.75 percent to 5.00 percent range.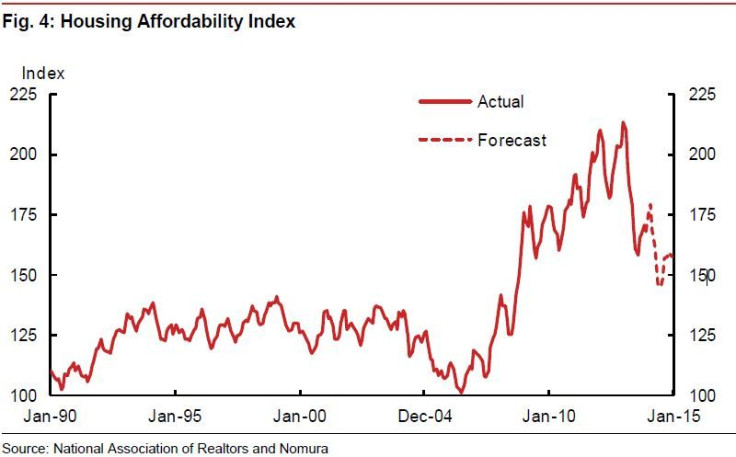 Banks are loosening their underwriting standards. Several banks have recently announced looser lending standards, Nomura notes. For instance, JPMorgan Chase & Co. (NYSE:JPM) announced last September that it had decreased its minimum down payment on mortgages made in Florida for primary residences to 5 percent from 10 percent and down to 10 percent from 20 percent for second homes.
"We expect banks to make up for a drop in refinancing volumes by continuing to loosen underwriting standards on purchase loans, although this is likely to have only a marginal effect [on home prices]," says Nomura's Amemiya and Reid.
© Copyright IBTimes 2023. All rights reserved.