US Immigrants Suspected Of Bosnian War Crimes Could Be Deported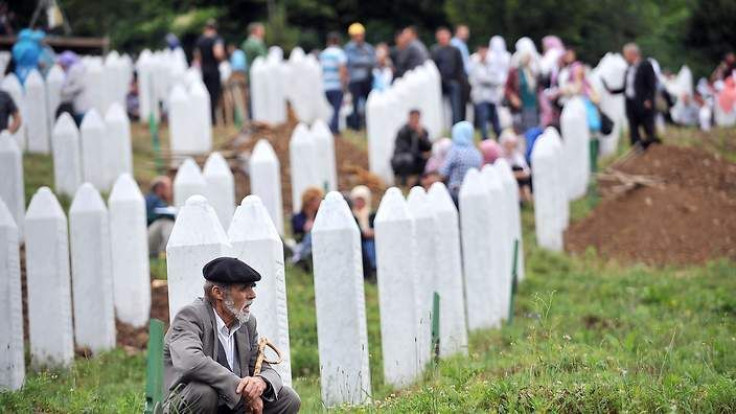 U.S. immigration officials are seeking to deport at least 150 Bosnians living in the United States who are suspected of "ethnic cleansing" and war crimes during the conflict that accompanied the violent breakup of Yugoslavia in the 1990s. A Virginia soccer coach, an Ohio metal worker and four Las Vegas hotel casino workers are among the Bosnian immigrants accused of hiding their involvement in Balkan war atrocities, the New York Times reported.
Authorities identified about 300 immigrants in total — many of them former solders from Bosnia — who may have had a hand in the 1995 genocide at Srebrenica, where some 8,000 unarmed Muslim men and boys were executed by Bosnian Serbs. Officials told the Times the number of people facing deportation could eventually top 600, as more records from Bosnia become available.
The main factions embroiled in 13 months of civil war in former Yugoslavia were the Serbs, Croats and Muslims. Both the Serbs and Croats in Bosnia claimed Muslims were not a genuine nationality, but rather Serbian or Croatian in addition to their religion.
A three-year study carried out by the Research and Documentation Center in Sarajevo determined in 2007 that some 65 percent of those killed in the Bosnian war were Muslims, according to BBC News. But the Serbs, who sought to remove Bosnian Muslims to create a Serb-dominated state, had more blood on their hands than any other group, according to the New York Times. The United Nations declared in 2004 that the Srebrenica massacre by Bosnian Serb forces was an official act of genocide, for which the International Criminal Tribunal for the Former Yugoslavia has convicted nearly 80 people. Still, many offenders escaped punishment.
"The idea that the people who did all this damage in Bosnia should have a free pass and a new shot at life is just obscene to me," U.S. Immigration and Customs Enforcement historian Michael MacQueen told the Times Saturday.
The more than 120,000 Bosnian refugees who applied for American visas in the mid 1990s were required at the time to disclose military service and other allegiances that might suggest war crime involvement. However, immigration officials relied largely on the applicants' word and did little to verify their statements.
Some of the suspects are now longtime American citizens who defense attorneys said have been haphazardly linked to crimes committed decades ago in a foreign war zone. "It's guilt by association," Thomas M. Hoidal, a lawyer in Phoenix who represented two of the 12 Bosnian Serbs in Arizona now facing deportation for war crimes, told the New York Times.
But accumulating enough evidence to deport a war crime suspect is difficult, and the long-running investigation has been dogged by funding cuts for the agency's war crimes section, the Times reported.
In an effort to identify war crime suspects, U.S. officials urged Bosnians around the world this month to come forward with any relevant information. "Justice can be served in the United States despite the fact that many years have gone by and that the conduct occurred overseas, far away," Kathleen O'Connor, a human rights prosecutor at the U.S. Department of Justice, reportedly said in Bosnian on the government-financed Voice of America network.
© Copyright IBTimes 2023. All rights reserved.