U.S. Job Openings Increase To Five-month High; Manufacturing Slumps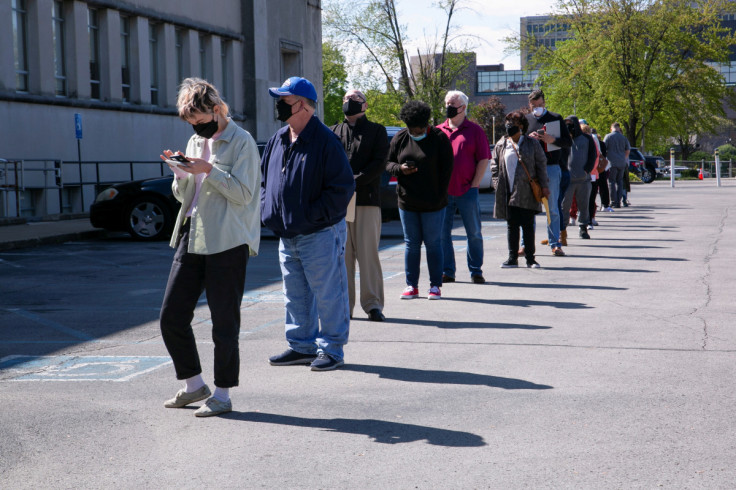 U.S. job openings unexpectedly rose in December, showing demand for labor remains strong despite higher interest rates and mounting fears of a recession, which could keep the Federal Reserve on its policy tightening path.
There were 1.9 job openings for every unemployed person in December, the Labor Department's monthly Job Openings and Labor Turnover Survey, or JOLTS report, showed on Wednesday. Signs of persistent labor tightness were unlikely to change expectations that the U.S. central bank would further slow the pace of its rate hikes when policymakers concluded a two-day meeting later on Wednesday.
"This could well be the first recession in history without material job losses," said Christopher Rupkey, chief economistat FWDBONDS in New York. "It's a good thing for the Fed that inflation pressures are cooling because the labor market isn't cooling at all."
Job openings, a measure of labor demand, increased by 572,000 to a five-month high of 11.0 million on the last day of December. Economists polled by Reuters had forecast 10.250 million job openings.
Accommodation and food services led the increase in job openings, with unfilled jobs rising by 409,000. Employment in the industry remains below its pre-pandemic level. There were 134,000 more openings in retail trade.
Construction, which has been hammered by higher borrowing costs, had 82,000 additional vacancies.
The job openings rate up shot to 6.7% from 6.4% in November. Hiring increased to 6.2 million from 6.0 million. The hires rate rose to 4.0% from 3.9% in November. The gap between job openings and hiring suggests wage growth could remain elevated, though it cooled in the fourth quarter.
GRAPHIC: JOLTS: U.S. labor market churn (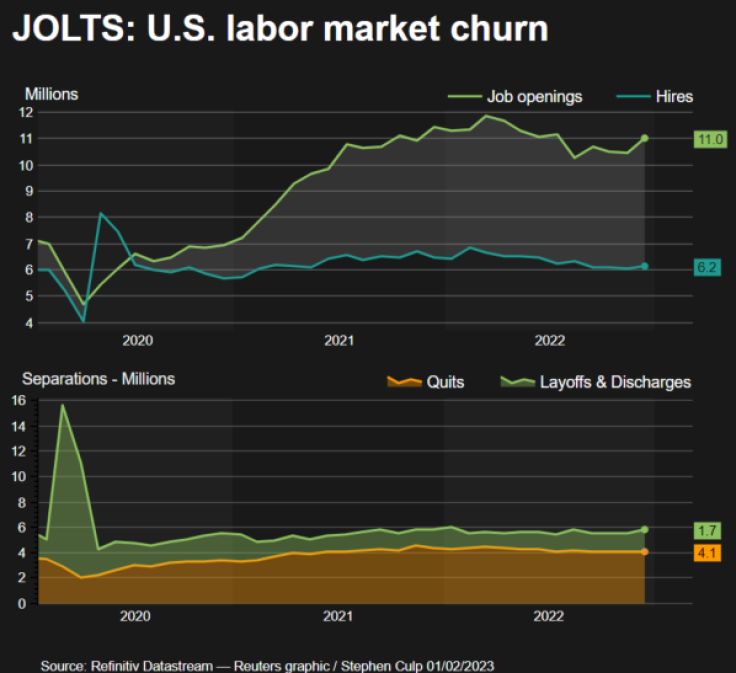 )
The U.S. central bank is expected to raise its policy rate by 25 basis points on Wednesday. The Fed last year raised its policy rate by 425 basis points from the near-zero level to a 4.25%-4.50% range, the highest since late 2007.
Aggressive monetary policy tightening has left economists expecting a recession by the second half of the year. The housing market has slumped and the downturn in manufacturing is intensifying.
A separate report from the Institute for Supply Management (ISM) on Wednesday showed its manufacturing PMI dropped to 47.4 in January from 48.4 in December. The third straight monthly contraction pushed the index to the lowest level since May 2020 and below the 48.7 mark viewed as consistent with a recession in the broader economy.
U.S. stocks were trading lower. The dollar fell against a basket of currencies. U.S. Treasury prices rose.
GRAPHIC: ISM Manufacturing PMI: a breakdown (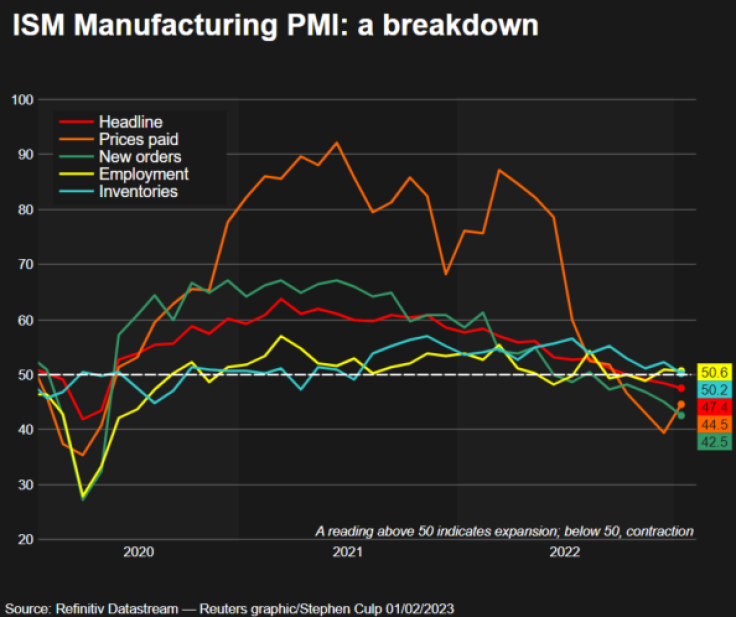 )
LAYOFFS LOW
Despite the deterioration in conditions, factories did not appear to be laying off workers in large numbers. That was reinforced by the JOLTS report, which showed layoffs climbing to 1.5 million in December from 1.4 million in November. The layoffs rate edged up to 1.0% from 0.9% in November.
Workers also continued to voluntarily quit their jobs in December. The quits rates, which is viewed as a measure of labor market confidence, was unchanged at 2.7%.
A third report showed private employment increased by 106,000 jobs last month after rising by 253,000 in December, well below economists' expectations for a gain of 178,000. The ADP National Employment report, however, attributed the weaker-than-expected private payrolls gain to bad weather in mid-January, including flooding in California.
The ADP report, jointly developed with the Stanford Digital Economy Lab, was published ahead of the release on Friday of the Labor Department's more comprehensive and closely watched employment report for January. The ADP report has been a poor predictor of private payrolls in the Labor Department employment report.
"The muted increase in the ADP measure of private payroll employment will add to fears that the malaise in activity has spread to the labor market," said Paul Ashworth, chief North America economist at Capital Economics in Toronto. "We would still urge caution about relying too much on the ADP measure, particularly in January when firms purge payroll records of employees who may not have worked for months."
According to a Reuters survey of economists, nonfarm payrolls likely increased by 185,000 jobs in January after rising by 223,000 in December.
© Copyright Thomson Reuters 2023. All rights reserved.