US Jobs Report Expected To Confirm Federal Reserve Rate Hike Expectations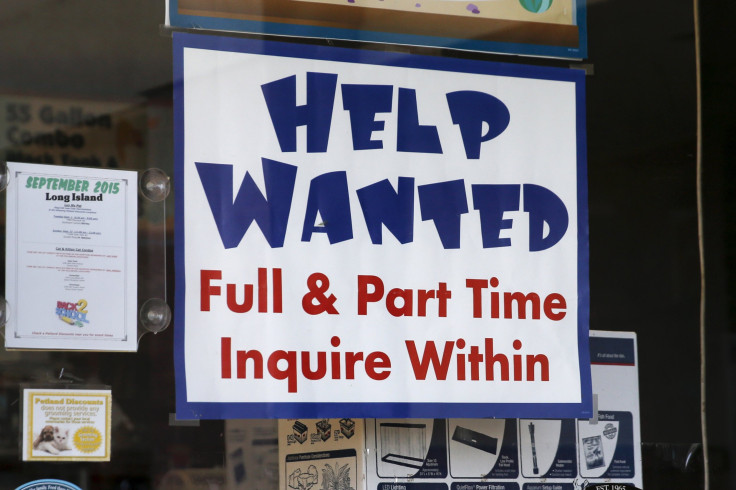 Economists expect a report -- due Friday on October's job market in the United States -- will confirm to the Federal Reserve that the U.S. is healthy enough to take its first interest rate increase in nine years in December, the Financial Times reported.
Fed officials, including Chairwoman Janet Yellen, have hinted that a rate hike in December is highly likely, after the central bank painted a brighter picture of the economy. Previous speculation of a rate hike in September -- to raise interest rates from historic lows pushed down to spur an economy from the depths of the Great Recession -- came to naught as concerns arose about the health of the Chinese economy and other emerging markets.
"This is a big piece of data as to what the Fed is looking for," Scott Colyer, CEO of Advisors Asset Management in Monument, Colorado, told Reuters. "I think everybody wants them to move or not move. The month-to-month stuff is killing everybody."
Economists estimated the U.S. added 180,000 jobs in October, bringing the unemployment rate to 5 percent, the Financial Times said, citing a Bloomberg survey. A Wall Street Journal survey predicted 190,000 jobs would be added in October -- a nearly 50,000 increase from September -- creating yet another positive argument for a rate hike.
And while a Thursday report showed the number of Americans who signed up for unemployment benefits last week rose more than expected, it was still a relatively low number, according to the Journal.
"Liftoff will soon be appropriate," Bloomberg reported Federal Reserve Bank of Atlanta President Dennis Lockhart as saying Thursday. On Wednesday, Yellen said a December rate hike is a "live possibility" while New York Fed President William Dudley also argued in favor of one.
In the past two years, just the expectation of higher rates has boosted demand for the U.S. dollar, hurting emerging markets and making it easier for Americans to buy imported goods, and to travel. On the other hand, mortgage rates have risen. The average rate on a 30-year fixed rate mortgage rose to 3.87 percent Thursday from 3.76 percent a week before while the 15-year rate rose to 3.09 percent from 2.98 percent, according to the Washington Post, citing mortgage company Freddie Mac.
Asian markets reacted negatively to the growing prospect of a December rate hike, Reuters reported.
© Copyright IBTimes 2023. All rights reserved.
FOLLOW MORE IBT NEWS ON THE BELOW CHANNELS